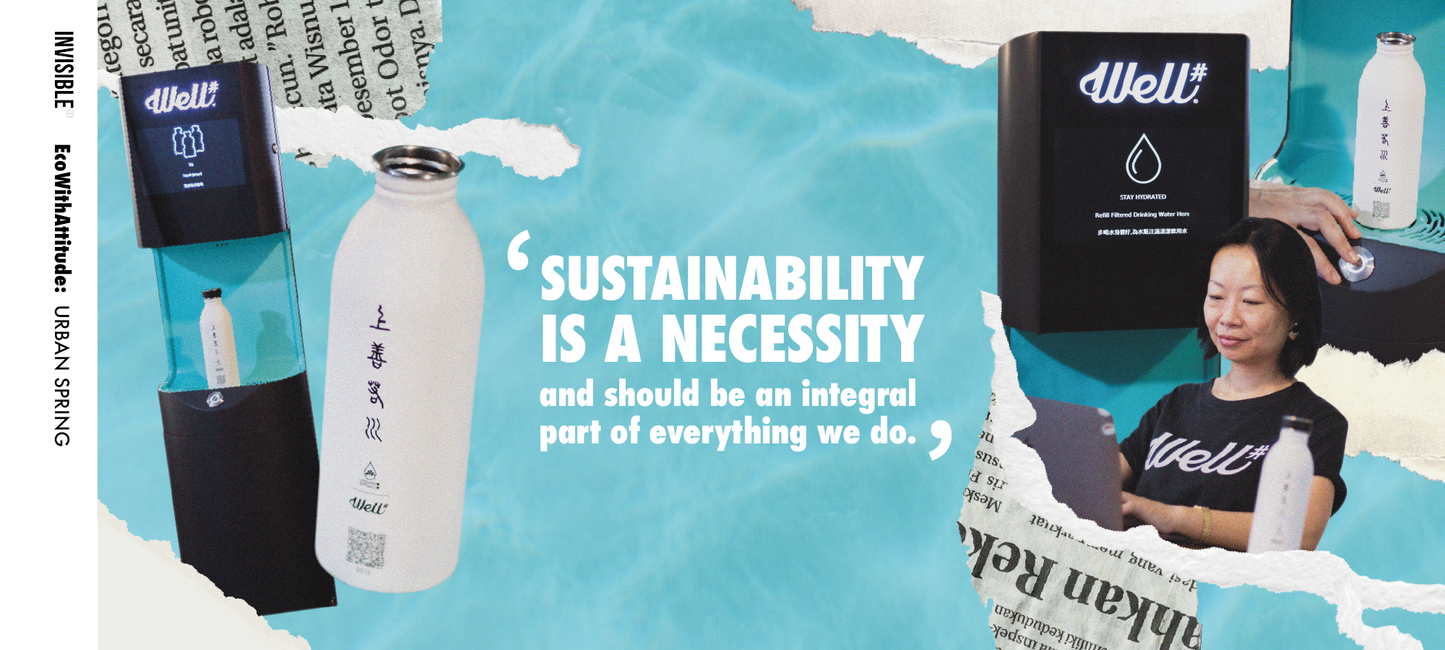 In 2021, a staggering 202 tonnes of plastic bottles were discarded every day in Hong Kong, representing a 12% increase compared to the 179 tonnes in 2020, according to solid waste statistics. While recycling helps, it is more important to take steps to reduce waste at the source. By simply bringing your own bottle on-the-go, you can help save a plastic bottle from ending up in a landfill. Meanwhile, there is a company in Hong Kong addressing this issue by providing an award-winning smart refilling station.
Sustainability is a necessity and should be an integral part of everything we do.
In #EcoWithAttitude ISSUE 14, we talk to Urban Spring's Chief Empowerment Officer, Ada Yip, on their Well井 water refilling station and reliable refilling network in Hong Kong. Discover how Urban Spring uses technology to promote greener alternatives to single-use plastic bottles for a sustainable urban lifestyle.
#1 The story behind how Urban Spring came to be?
I want to shift from banking to a new venture, seek a career change and start my own one. I was thinking to distribute some organic brands in Hong Kong as I was interested in organic food. So I quit my job, and until one day, a friend told me about a talk on impact businesses and social enterprises. Since then, I have been extremely interested in the concept, as I realized that not all businesses focus solely on profits. Some have established their companies with a mission to solve social issues, rather than just seeing it as a business opportunity.
Attending the talk sparked my interest in social entrepreneurship and led me to take a series of classes. Through these classes, I met other like-minded individuals. One day, my teacher informed me of an open job position for a social incubation program, which I applied for and ultimately got it. In this role, I provided support and resources to various social enterprises. However, as time went on, I realized that I wanted to do more than just connect others with impact investors. I began to dream of an opportunity to help someone to run a social enterprise. By chance, I had the opportunity to meet the co-founder of Urban Spring, a surgeon and avid hiker, was troubled by the plastic waste he encountered on trails, particularly plastic water bottles.
He invited me to join the team part-time, and now, 7 years later, I am the CEO (Chief Empowerment Officer). Ideally, Urban Spring hopes that consumers no longer need to bring a large bottle or refill water at home before going out. They can simply bring a small bottle and refill on the go, anytime and anywhere.
As a leader, Ada strongly believes in providing direction, resources, encouragement, and technical knowledge to empower the team to execute and further develop ideas. This internal empowerment translates externally to enabling and empowering companies to adopt a lifestyle system.
#2 Inspiration and design behind the "Well井"?
After discovering numerous plastic bottles on the trails, the co-founder of Urban Spring conducted his own research and discovered that bottled water was a marketing scam, despite the high-quality water in Hong Kong. However, it was challenging to find clean, hygienic, and accessible refill stations on the streets. To encourage a shift towards refilling water bottles on the go, Urban Spring wanted to redesign refill stations to make them more appealing, hygienic, and convenient. This included eliminating the need to put your mouth near the water outlet or worry about the bottle touching it. For example, the outlet of water is hidden to prevent users from maintaining hygiene when adding water; and automatic reminders will be sent to the operation team when they need to change the water filter.
Traditional water refilling stations are commonly found in sports center, stadium and schools.
Courtesy:
Topick
To achieve our goal of promoting refilling over bottled water, we partnered with engineers and designers in Hong Kong to design our machines with sufficient spacing for easy refilling and a hidden water outlet. Automatic flushing helps keep the outlet free of dust, while ensuring the water is chilled to 20 degrees Celsius for a refreshing drink. Our focus is on delivering a consistent and holistic experience, from the outlook to the water speed and temperature. A display feature showcases the number of plastic bottles saved from the landfill, engaging users with our message in every detail.
"Well" can function as a noun, an adjective, and even an onomatopoeia. In the old days, there was a well next to the church where people would gather. In modern times, there should be no different. If I meet someone, I could suggest, "Let's meet next to the Well," similar to how people in other countries meet in front of a fountain. It's a lifestyle choice that is accessible and informative.
Ada thinks that in an ideal scenario, a shopping mall would have a designated comfort zone with a nursery room, toilets, a sofa, and a water refilling station. Source:
Urban Spring's Instagram
#3 How do you raise corporate awareness in Well井, and overcome difficulties in the process?
It's generally not hard to get people to agree with the concepts of "eco-friendliness" and "sustainability", even if they don't prioritize them. However, putting these concepts into action is a different story. People and companies tend to make excuses, and while water is clearly important, installing water refilling stations is often not seen as a necessity.
It's not an easy task to overcome, as we can't force water refilling stations to become a necessity for companies, but we can work with government to improve their procurement process and encourage them to consider newer water refilling solutions. Additionally, we focus on retaining consumer inquiries and converting them into customers instead of cold calling. This requires gathering data and experience to learn the outcomes.
Well井 water refilling machine inside the
LANE EIGHT
store in Wan Chai.
During the first 4 years, we have tried different approaches, but we must have a clear direction and expected outcomes to frame our strategy. We also need to wait until the market is ready, but without planting the seeds beforehand, it's possible that you won't even see any outcomes or receive any inquired after COVID. In the meantime, some large corporations have payment terms of up to 100 days, but if they were able to pay upfront, it could greatly benefit and save many startups and companies.
Urban Spring is a company with over 20 team members who are actively working to expand the network of Well井 water refilling stations in Hong Kong. Ada also mentioned that each industry has its own working culture, which strongly influences employees' creativity in their roles. When she worked at an American bank, the entire team was dynamic and proactive in seeking solutions to problems. However, in many traditional Hong Kong working environments, team members tend to step back when faced with a problem and are not proactive in finding solutions or taking responsibility.
#4 What does "Sustainability" means to yourself?
To me, the word "sustainability" is unnecessary. As long as nature, humanity, and our planet can thrive and endure, we can maintain a healthy, comfortable, and progressive world to live in. Sustainability is a necessity and should be an integral part of everything we do.
While some might label me as an eco-friendly individual, I see it more as a way of life that I learned from my family. My grandparents instilled in us the values of reusing items and avoiding waste, which I carry with me to this day.
And ever since I joined Urban Spring, I've been learning more information, such as the amount of energy required to manufacture certain products, which has made me more conscious of exploring alternative options. For instance, I used to purchase pocket tissues, but I realized that carrying a towel is a simple and eco-friendly solution that has now become a habit for me. Although it initially surprised some people, I've noticed that two of my friends have also started using towels since they observed it.
Adopting a sustainable lifestyle is a gradual process that involves changing habits and influencing others around us. For instance, one day while queuing for milk tea in Wan Chai, I brought my own coffee cup. The lady behind me noticed and remarked that it was a good and hygienic practice. Perhaps eco-friendliness was not her initial concern, but every action we take can inspire others. When people see something more than 20 times, they tend to consider it as a better option and start adopting it themselves. Hence, by living sustainably, we can slowly encourage more people to follow suit.
During a school sharing session, a 13-year-old student told Ada, "Ada, let's make Hong Kong great again." He also expressed pride in the fact that the well-designed machine was created by local designers.
Courtesy:
Urban Spring's official website
#5 Any upcoming initiatives?
There are already more than 400 locations with Signature Well井 water refilling stations, and we have also installed additional stations in country parks through the AFCD program, bringing the total to over 600 points. At the end of last year, we saved over 10 million plastic bottles (500ml) by filtering water. This was a significant milestone for us. However, in Hong Kong, we still dispose of millions of bottles every day, so our efforts represent only a small fraction of what is needed to tackle the issue.
And as a result of COVID, we have shifted our focus towards installing machines in schools since most of our commercial projects have been put on hold. Our goal is to expand our reach in 2023 by installing machines in hotels, shopping malls, and other high-traffic locations to maximize our impact and reach as many people as possible.
I always think that the ideal scenario would be to have a water refilling station in both exits of every MTR train station, knowing that water refilling stations are always available would be an immediate reminder, and it could have a huge impact and encourage people to bring their own water bottles.
Despite the widespread images and news stories about plastic pollution and its impact on marine life, many people still fail to connect their actions with environmental harm. Ada believes that other countries are not necessarily doing better than Hong Kong in terms of implementing water refilling stations or inspiring change. For instance, even in London with many accessible newspaper stands, and where sales of bottled water have increased while sales of soft drinks have decreased, people continue to purchase single-use plastic bottles.
...
You may also like:
ISSUE 12. Interview with Jorch from The Loops, ,ISSUE 10. Interview with Berit Legrand from The Animal Fund , Microplastics Crisis: From Beach Landscapes to Our Body
...
Find more articles from keywords: B Corp, bring my own bottle,water refill station near me,refill my bottle,reusable water bottle