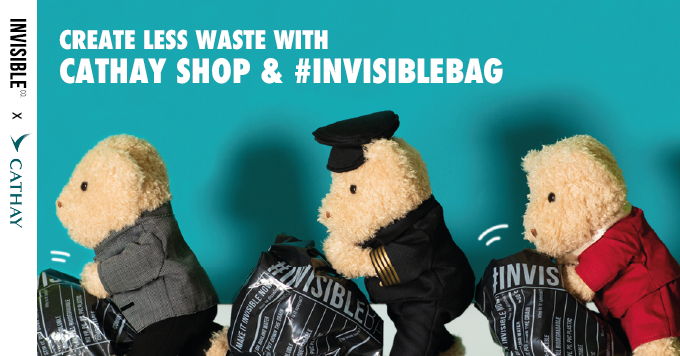 Create Less Waste With Cathay Shop & #INVISIBLEBAG
Up till 2021, 27,280 tonnes of carbon emissions had been offset via Cathay Pacific Fly Greener, including 7,320 tonnes offset for their customers for the Green Friday campaign in order to achieve net zero carbon emissions by 2050.
Apart from transitioning to the use of sustainable aviation fuel (SAF), Cathay is also consciously taking sustainable sourcing seriously and working closely with suppliers and partners who are aware of using sustainable materials, regenerated waste materials and recycled products.
Now, you can shop with Cathay Shop and create less waste together! From the Cathay shop, you can find 75th anniversary limited edition bear by upcycled crew uniforms and many of those gifts will be arrived at your doorstep in #INVISIBLEBAG, a packaging which is an alternative material that dissolves easily in water and doesn't leave harmful residues on earth. With just a few simple steps, you can feel even better about elevating your lifestyle with premium products from Cathay.
A Greener Shopping Experience at Cathay Shop
Nowadays, online shopping is a must and more convenient to make your life easier. By switching from traditional plastic bag to #INVISIBLEBAG Mailer, you are actually participating in easing earth's burden and reducing your guiltiness for creating waste when you shop online.
How to Dissolve Your #INVISIBLEBAG?
Understand that you are very excited to unbox the gift immediately, it is worth-a-try to dissolve #INVISIBLEBAG with hot water instead of just throwing it into the rubbish bin. Even if you dispose of it directly, it will biodegrade under landfill conditions in 90 days*.
Don't underestimate the influence of each time you shop! Deciding to support a company who is willing to develop sustainable approaches is also another way to make the world greener. Make your move today and be a conscious consumer!
*#INVISIBLEBAG has been tested under ASTM D5511 requirements and the result shows more than 85% biodegradation in 90 days under landfill conditions, more information here.
...
You may also like: .3coffee - The planet friendly coffee with benefits!