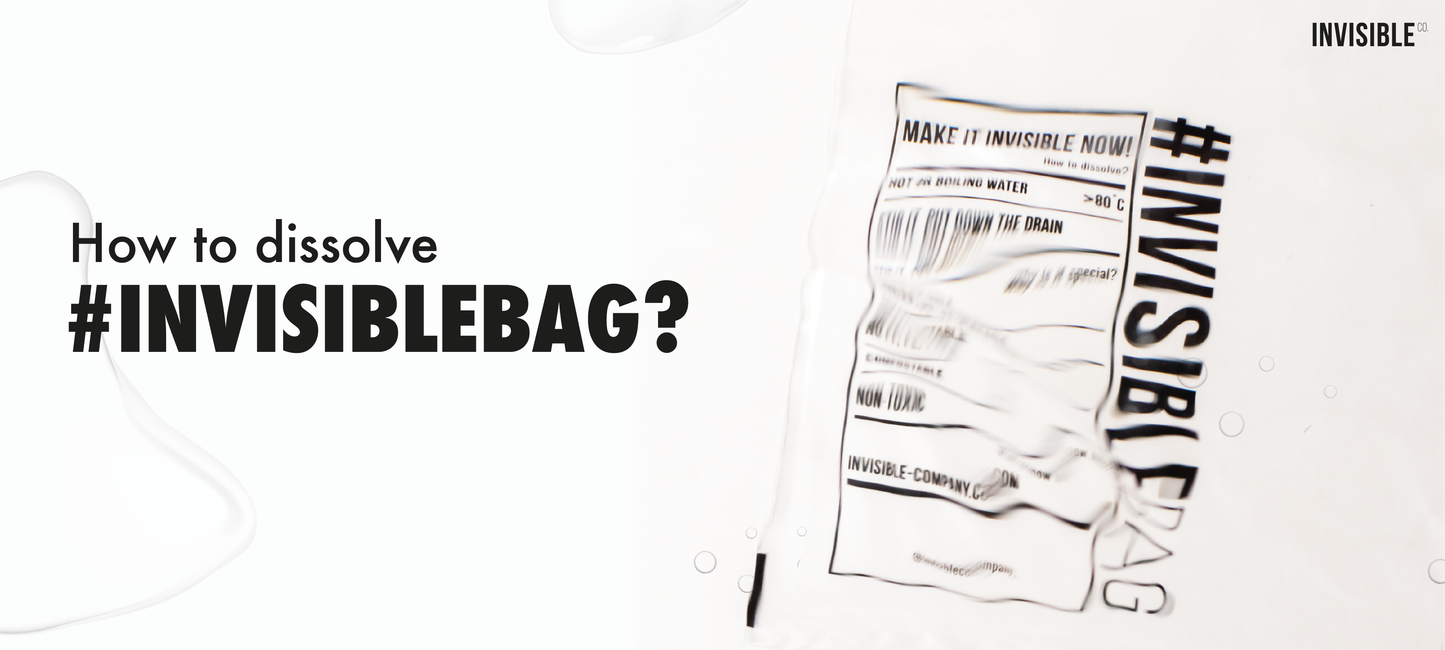 #INVISIBLEBAG is more than just compostable, landfill biodegradable, environmentally friendly, but it's also water-soluble! It means it dissolves completely in water, you can simply follow the 6 easy steps with a couple of minutes to dissolve it.
And no worries! We care about the environment and have gone the extra mile to make sure that #INVISIBLEBAG doesn't harm the planet by running different tests and obtaining certifications, leaving no harmful residue behind. It's an alternative and solution for reducing the conventional plastic packaging waste.
#INVISIBLEBAG: 6 Easy Steps To Dissolve
Apart from getting the information and demonstrations on our website and social media channel, you might also find a tent card attached to the parcel or a QR code on the #INVISIBLEBAG from the Distinctive Actors or brands you purchase and support. You can then follow the instructions to simply dissolve #INIVISBLEBAG in a couple of minutes.
"How To Dissolve #INVISIBLEBAG" tent card, available on our website
"How To Dissolve #INVISIBLEBAG" tent card print version, it varies depending on the brands' design.

Step 1: Remove The Tape
Before dissolving, please cut and dispose of the adhesive tape, or any other plastic stickers and materials which came along with the package. When dissolving a large #INVISIBLEBAG (most likely is a poly maile bag), it's also recommended to cut the bag into smaller pieces to help it dissolve more easily and quickly. This is because smaller pieces dissolve faster than larger ones.
Step 2: Hot / Boiling Water At 80℃ Or Above
We recommend using water at a temperature of 80℃ or higher to dissolve #INVISIBLEBAG. Place it in a heat-resistant container and pour boiling water over it. The bag can also be dissolved in water at lower temperatures, although the process will be slower. The higher the temperature of the water, the faster the bag will dissolve.
Step 3: Stir It
To stir #INVISIBLEBAG as it dissolves, use a spoon, chopstick, or other utensil that will keep you from getting burned. Stirring helps to accelerate the dissolution process, allowing the bag to dissolve more quickly in water. As the bag dissolves, you will see it transform from a solid to a liquid form. We have received feedback from parents that they enjoy dissolving #INVISIBLEBAG with their children as a science experiment, using it as a fun way to educate them about sustainable and green living.
Our Distinctive Actor have dissolved #INVISIBLEBAG and shared it on social media channel.
(From Left Top to Right Bottom),
Winnie Lai
,
When & Where
,
ASTROMELIA
,
NJAS
, and
Hylo Athletics
.
Source From: Instagram
@vanillamui
,
@whenandwhere.nyc
,
@astromeliaco
,
@sourire.njas,
, and Youtube
Hylo Athletics
.
Step 4: Leave It For Few Minutes
Since it takes time for the bag to dissolve from solid to liquid form, please wait a few minutes or until it is almost completely dissolved before proceeding to Step 5.
Step 5: Put Down The Drain
After #INVISIBLEBAG is dissolved, you can pour the liquid down the drain in the kitchen or bathroom. You can also flush it down the toilet, in every way the waste water will end up in the wastewater treatment system or septic tank.
Step 6: Leaves No Harmful Residues
After completing the above five steps, your #INVISIBLEBAG packaging will be dissolved, leaving no harmful residues in the environment. You have made a positive contribution to reducing waste and making packaging invisible. Your dissolve job is successfully completed after you finish the above five steps and now you have contributed to making packaging invisible and leaving no harmful residues in the environment.
Watch Now How To Dissolve #INVISIBLEBAG
The next time you receive a #INVISIBLEBAG package, you can follow the steps to dissolve it. You can also watch demonstrations here. Don't forget to record your first experience dissolving #INVISIBLEBAG, thus tag us @invisiblecompany_ and hashtag #INVISIBLEBAG on social media. By sharing your experience, you can help spread the positive message about sustainability and normalize the sustainable movement.