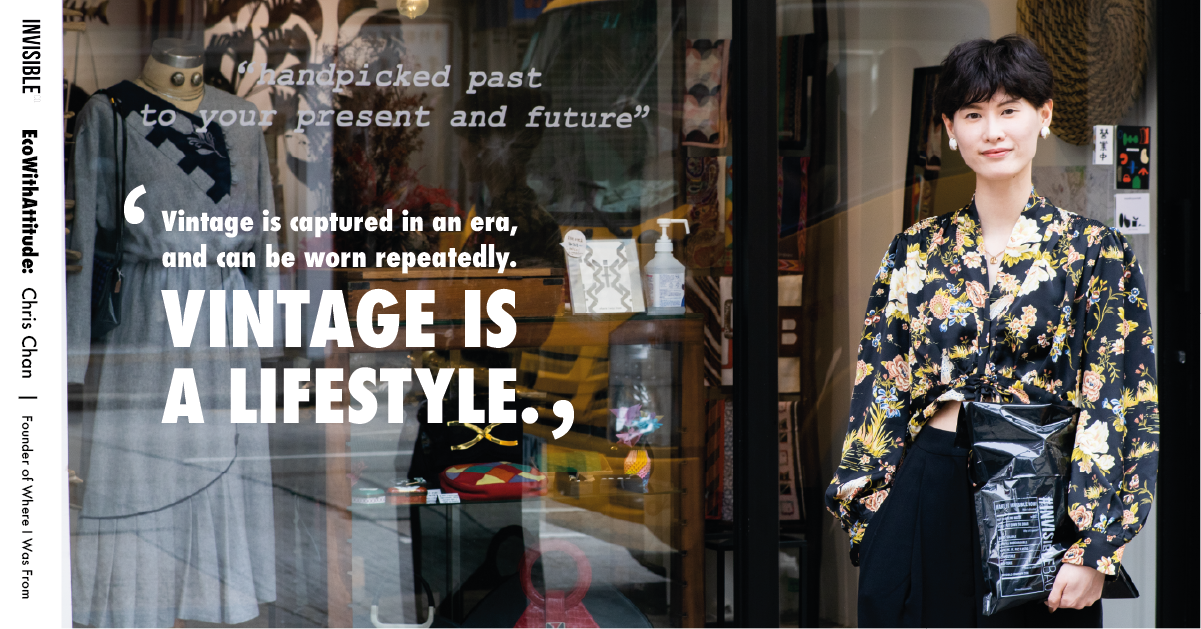 H ave you ever tried to explore your parents or grandparents's wardrobes? And tried to mix and match with your modern wardrobe?

In this Issue 11 of Eco With Attitude, we interviewed Chris Chan, the founder of Where I Was From, a vintage store located at Shum Shui Po in Hong Kong. She was inspired by her grandmother's wardrobe and lifestyle, and started her second-hand fashion journey. Chris handpicked vintage items from 1960s-1980s, and aims to create a space and community for customers to explore vintage clothing and accessories, sharing the history behind the items and the styling tips together with customers, same as how she discovered her grandmother's wardrobe when she was young. 
Vintage is captured in an era, and can be worn repeatedly. Vintage is a lifestyle.
#1 Where I Was From? What is the genesis and spark idea behind "𝙝𝙖𝙣𝙙𝙥𝙞𝙘𝙠𝙚𝙙 𝙥𝙖𝙨𝙩 𝙩𝙤 𝙮𝙤𝙪𝙧 𝙥𝙧𝙚𝙨𝙚𝙣𝙩 𝙖𝙣𝙙 𝙛𝙪𝙩𝙪𝙧𝙚"?
I used to be an English teacher, and you could foresee your direction clearly in 5-10 year on this career path. However, I would love to explore more possibilities outside of the academic world, and I found out that I have been promoting vintage clothing off and on since I was studying at the university. Until the end of 2019, I have decided to pick it up again and move from online to offline, and think of how am I going to deliver a different message and image to customers comparing with other vintage clothing shop.

When I was young, I used to explore the wardrobe of my grandmother, who was stylish and fashionable. She taught me how to do makeup, manicure, styling, even when she was aged, she insisted to dress up before leaving home, and I love her style and attitude. 


I love picking up the vintage clothing from my grandmother's wardrobe to mix in my modern wardrobe and high fashion, then why not combining both? And that's that's "𝙝𝙖𝙣𝙙𝙥𝙞𝙘𝙠𝙚𝙙 𝙥𝙖𝙨𝙩 𝙩𝙤 𝙮𝙤𝙪𝙧 𝙥𝙧𝙚𝙨𝙚𝙣𝙩 𝙖𝙣𝙙 𝙛𝙪𝙩𝙪𝙧𝙚".
"Handpicked past to your present and future" on the window of where I was from

From decoration to procurement, changing the button to alteration, my grandmother participated and contributed a lot to the creation of where I was from. I believe this shop is also recording her aesthetics and lifestyle.
A lot of people would question "I don't know how to dress vintage", or "There are similar clothing in my mum's wardrobe". At where I was from, I hope to address their worries, instead I would encourage them to discover the wardrobe of their parents or grandparents. If they have found some suitable ones, they could inbox me and share together how to do styling.
In the 1980s, most of the people were not wealthy, and ladies put the shoulder pads under the jacket in order to look fuller during the photo shooting.
Source From:
Where I Was From Official Website
At where I was from, we are not carrying the past stories to another person and continue the journey, but to understand the needs of that era and different aesthetics. We are here to carry out the history, then you would truly understand the "Where I Was From" of the vintage clothing or accessories.
The first clothing that Chris picked from her grandmother's wardrobe was a blazer and her grandmother used to tailor made them. When Chris was purchasing blazers for where I was From, her grandmother would share if they were from the same era by looking at the cutting and the details.
Source From:
where I was from Instagram
#2 Fast Fashion surrounds us, can you share your thought on how Vintage / second hand shop find its way through?
Fast fashion shorten the production lead time to only 3 weeks, from design to sampling, production to delivery, shooting to launching, we need to consider how low is the production cost and how many people are involved in the production, is there any existence of unfairness. Fast fashion always deliver a message that we don't have enough and consumers would be attracted by their campaigns and models, and purchase it because of its relatively cheap price. However, some people start to step back and rethink the necessity, and discover slow fashion is also available in the market.
The market is flooded with the fast fashion from Korea, China or other leading brands, when Hong Kong is still hot and people are wearing short sleeves and tank top, China & Korea are already launching the promotions, sweaters and knit winter hats, if the consumers have the mindset of "Let's buy first and get prepared for the winter or the next vacation", then we are doing things in the wrong order.
I would consider fast fashion is a trend which would stay around 5-7 years in your wardrobe, once the time is up, you would not wear it again. On the contrary, vintage is captured in an era, and can be worn repeatedly. It should not be defined as the trend from twenty or thirty years ago but should be considered as a lifestyle.
At where I was from, we selected the secondhand clothing and present in front of the consumers, and that's "𝙝𝙖𝙣𝙙𝙥𝙞𝙘𝙠𝙚𝙙 𝙥𝙖𝙨𝙩 𝙩𝙤 𝙮𝙤𝙪𝙧 𝙥𝙧𝙚𝙨𝙚𝙣𝙩 𝙖𝙣𝙙 𝙛𝙪𝙩𝙪𝙧𝙚" . We believe that vintage can be paralleled with modern and high fashion, and integrating into our wardrobes. And to deliver a message different from fast fashion, which is "we already have enough and we are beautiful". 
Chris is mostly promoting the vintage clothing and accessories from 1960s to 1980s, and a little from 1990s.
Chris aims to integrate vintage into modern closet, hence she selects the vintage brooches which are similar to those from high fashion. For example, one of the luxury brands has launched a similar design of brooch recently.


Each of the brooch has marked with the era by Chris, and most of the customers are the aunties who work in Shum Shui Po, they would mostly look for shirts, blazers and brooches.


#3 What's important for you when choosing your client's next wear?
Selling a clothing is not the priority but to build a genuine relationship with the customers at where I was from. "What attracts you to enter this shop" is always the first question to open the conversation, some customers would come in because of the accessories, the colors of the clothing or the intention of trying out the vintage. Also, I would ask if they are aware of the vintage clothing and what kind of colors do they have in their wardrobe.
I would start with accessories if the wardrobe is mostly with black, white and gray color; If the customer would love to try out some exaggerating earrings but worrying about the styling with the glasses, I would let them try out first and see if we could start from changing the eye makeup or hair styling. I believe that it is not a must for a customer to purchase a clothing to change her style, she could also achieve it by changing some details, such as wearing a watch, ring or other accessories.
Rings from 1970s to 1980s


I get to know more the needs and work attitudes of a customer through the conversation, how could I make them "Feel Good" by wearing the vintage. At where I was from, I hope I could help them to understand what is vintage and how to integrate them into their wardrobe.
Some customers would return to where I was from and present how do they style the vintage clothing. Chris created the story highlight of "Happy Customer" on Instagram.
#4 "Second hand/preloved/repaired" clothing is gaining popularity recently, what do you think of this from Sustainability angle?
Due to the impact of the pandemic, I could not visit the other countries to purchase vintage clothing so online order became the primary source, it means that it is inevitable to create packaging and carbon footprint. I am not foreseeing that I could reduce the environmental pollution through a store, but instead I could extend the product life of those vintage clothing or accessories which were supposed to be sent to the landfill, and present it beautifully again in front of the customers.
I also believe that sustainability can only be achieved when the communities join forces and allow more people to understand and accept it. Through this store, I wish I could get in touch with more people and share the stories behind vintage clothing.
Chris noticed that most of the customers do not pay attention to the price tag and throw it away after purchasing the clothing. Hence, there are no price tag in the store, instead Chris uses the masking tape and writes down the price, and sticks it on the hanger.


A friend of Chris also designed different cards for where I was from


The cup was made by the professor of Chris when she was studying at Hong Kong University to celebrate the opening of where I was from. And the decoration was from her parents.
#5 Why #INVISIBLEBAG for Where I Was From? 
I felt guilty when I knew that it was unavoidable to use plastic bags when shipping out the products. I have been looking for different eco-friendly packaging in the market but the design was not matching with where I was from. On the other hand, I love the concept of #INVISIBLEBAG, it has different information and demonstration about how to dissolve the packaging. As a brand owner, I can make a change by reducing the waste at source and avoid those unnecessary packaging.
Each vintage clothing will be sanitized and packaged first before delivering to the customer. And each parcel is now delivered in #INVISIBLEBAG mailer.

#6 Any unique piece and unforgettable story?
I thought my target customer was the young generation before opening the store. However, a lot of them and even my first client was an auntie who is working in Shum Shui Po. On the first day, she was wearing the apron and saying that she loves exaggerating earrings to show her beauty. After I showed her those, she purchased a pair and became my first customer. After got to know her more, she is working at the Shanghai-style barber shop, due to her work, she could only wear workwear and change her makeup and wear earrings only.
There is also another auntie who always visit where I was from, and mostly she would look for shirts, as she is working in the kitchen around here, she wears wide black pants and waterproof shoes without any accessories, but only the top is changeable. Hence, she always look for the beautiful shirt with high neck and pattern.
Chris is planning to get vintage clothing in variable styles and sizes, aims to integrate with the wardrobes of different clients.