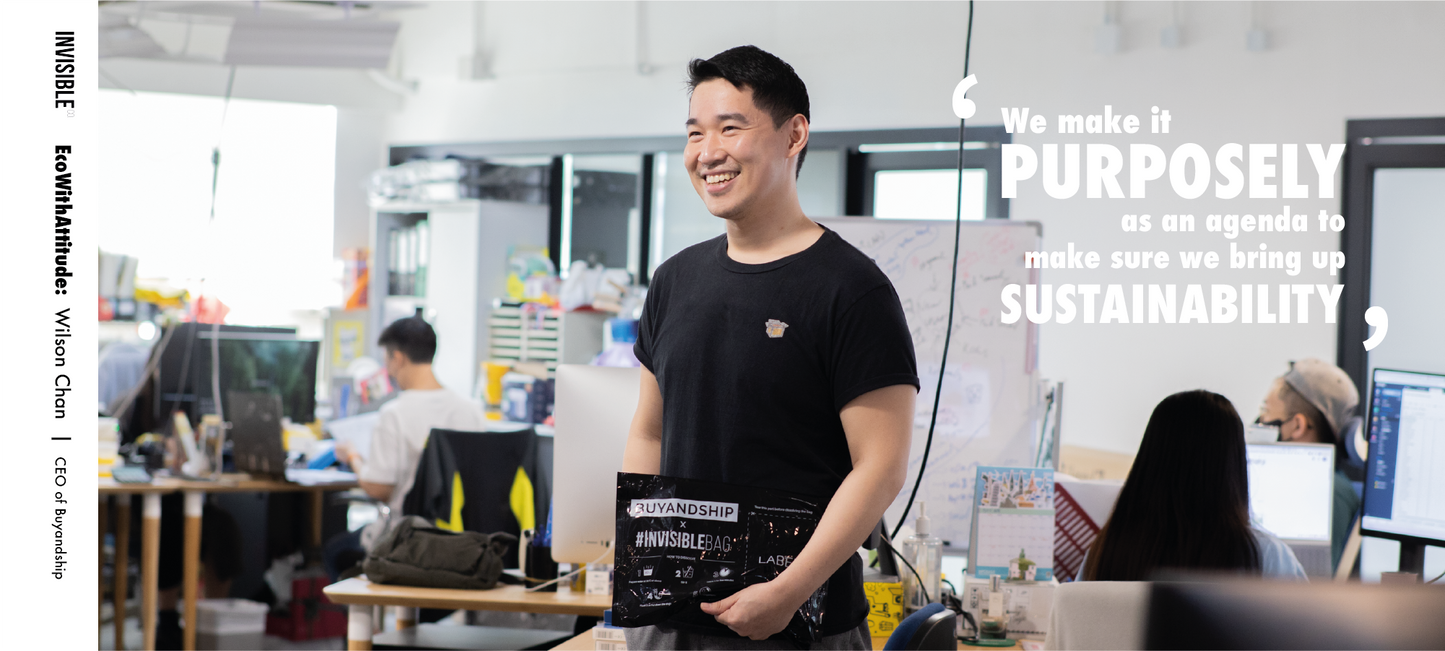 Behind every innovation, innovators take a leap of faith to lead by example before others join in, which entails overcoming the barriers through early market adoption to penetration. Sustainability in the logistics industry makes no exception. In this ISSUE 06: Eco with Attitude, Wilson Chan, the CEO of Buyandship, shares about the Sustainability journey of the cross-border eCommerce gateway, from inspirations to challenges and aspirations.
We make it purposely as an agenda to make sure we bring up Sustainability!
#1 What are the recent changes that you have made to practice sustainability in daily life?
I try to get rid of plastic bags and always carry a tote bag. Because at home there is a whole collection of plastic bags for grocery shopping, but I never get to use them!
#2 What are the challenges that you have noticed between the logistics industry and sustainability?
For us, what we like to focus on (Sustainability) is a very controversial topic, but there are things that need to be re-educated. A lot of the time, if we don't bring up the point well enough, people forget rather quickly.
NowTV Interviews on Eco Shipping Bags featuring Buyandship and Invisible Company
#3 What are your considerations for choosing biodegradable mailers?
We have been looking into biodegradable products for a while now, probably around 5 to 6 years. So it's not new to our company. We've tried multiple generations of products made of different materials, such as recycled plastic.
First, we asked ourselves what's the ultimate goal we are after? I don't want it to sit in the landfill for the rest of its life span. If that's the only criteria, then find a solution that actually works. And then we look at pricing - it was a massive differential, but now it's slowly going back down in recent years.
Buyandship introduced their own water-soluble #INVISIBLEBAG
#4 Why #INVISIBLEBAG for Buyandship?
Education needs to continue for the end-users. The novelty of this product makes it very interesting for consumers to be aware of the impact on the environment. Instead of throwing it into the garbage bin, they can actually do something. 
#5 What are the other sustainable goals or initiatives in Buyandship?
There are certain actions we can do internally and externally. We are talking to NGOs about a large-scale recycling program here in Hong Kong for our shipping boxes, as well as the other things we can do with nonprofits. What we have always done internally is to cut down the box and re-box things.
When we found out about #INVISIBLEBAG, it was an obvious choice. We understood that the added cost was an issue, but as the brand owners, we knew it was important to make this work. It's an investment in our future. We should create educational, impacting videos to support it. People now could just unbox and dissolve it.
Wilson Chan, the CEO of Buyandship
#6 Have you noticed a trend for people to look for eco-friendly products?
We can't say if there is a meaningful change because our customer survey result is too diverse in range. But we make it purposely as an agenda to make sure we actually bring up this topic. Otherwise, but we never talk about it, no one's gonna talk about it. So like that's the thing that we have to do for ourselves.
...
You may also like:
APAC Shoppers, Buyandship is Now Shipping Your Online Shopping in #INVISIBLEBAG, Going Plastic Free: How to get started with #Plasticfreejuly?
...
Find more articles from keywords: 
what is biodegradable packaging,Sustainable Living,refill my bottle,reusable water bottle