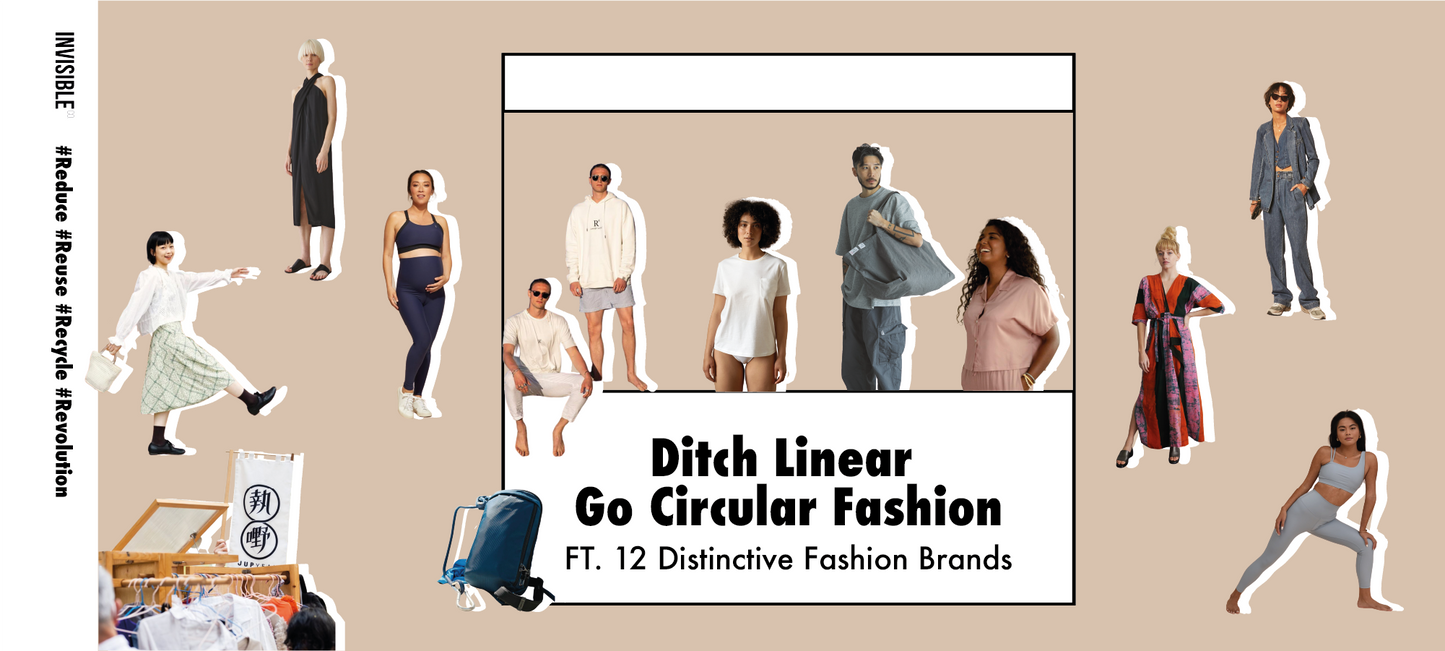 Circular fashion economy is about creating an ongoing cycle that fosters a sustainable future for our planet and people. Unlike the linear model, a circular fashion system empowers an inclusive and regenerative value chain where anyone (including you and me) can initiate change and make a positive impact, and not just the policy makers, retailer brands and manufacturers. Intrigued to join in the circular fashion movement today? Read on to explore the different ways you can help to close the loop and find out more about 12 leading global distinctive actors in the fashion world.
Why ditch linear fashion economy?
Simply put, the linear fashion economy is just not sustainable for our ecosystem. Following a 'take, make and dispose' approach, this business model has a laser focus on profit maximization, through extracting natural resources, manufacturing goods at a large scale, and promoting impulsive buying. Although profitable, it often regrettably thrives on excessive production at the expense of our environment. 
A recent report published by BoF and McKinsey points out that wastages begin at the early manufacturing stage, whereby 12% of fibers are already discarded. Later in the retail stores, what customers do not see is that 25% of apparels usually remain unsold. Despite the rising awareness of circularity among end-users, less than 1% of the sold products are being recycled at the end stages.
'The linear fashion economy and the circular fashion economy share a radically different value system.'
The other major problem with the linear fashion economy is that other than resource wastage, the whole process is playing a significant role in the global climate crisis.The sustainable fashion forum, Global Fashion Agenda, projects that if fashion trading is unable to make a 20% shift towards a circular model, it is expected to double the amount of carbon emission volume above the 1.5 degree global warming pathway by 2030; meaning we need to embrace a circular economy at a much greater scale than we are doing already in order to reduce the devastating impacts on our environment.
How does circular fashion work:
Firstly, we need to recognize the linear fashion economy and the circular fashion economy share a radically different value system: take, make and dispose vs.reduce, repeat, recycle.
4 considerations behind every sustainable fashion choice
In the circular fashion world, fashion retailers, manufacturers and customers are on a mission to create value wherever they can — through designing for durability and repeated usage, reducing energy and water usage during production, or by increasing usage of recycled materials to keep the loop going. Behind every sustainable fashion choice, it is also important to ask yourself who makes and ships your clothes, as well as whether the packaging is reusable, recyclable, biodegradable, or compostable (or in our case, water-soluble!)
The rule of thumb to keep in mind is, to create value WheRE-ever you can: reduce, reuse, recycle, and revolution - now!
#REDUCE: Design for Circularity
Every garment begins with a design. As fashion designers sketch out the silhouettes, functions, and textile of every piece of clothing, their decisions have already made a significant impact on how far and how many times it can travel within the circular fashion loops. The more essential, durable and sustainable it is, the higher the chance that it can generate values over and over and over in the loop.
Check these fashion distinctive Actors with a strong design focus:
1. Service Engineered Wear 
Created to meet the essential needs of people
Service Engineered Wear produces essential items on demand to reduce unnecessary textile wastage. Their production is based in Shek Kip Mei, Hong Kong by the hands of local tailors. During every sprint of small production, each piece comes with its own unique label stamped manually with a designated production number. Best Match: Pragmatic minimalist. Product Range: Functional jackets, shirts and bags that works with the Hong Kong lifestyle. Price Range: $$. HQ: Hong Kong. Shop Service Engineered Wear.
2. Minimalist NYC
Luxury minimalist fashion designed to close the loop
Circularity is in Minimalist NYC's DNA. The founder, Tamara is committed to a circular design process for every single piece under her fashion label. From design for recyclability and resellability to sourcing sustainably to reduce environmental impact, garments are produced in NYC to support local factories and women workers. Best Match: Women sustainable leaders who seek ethically made yet stylish fashion. Product Range: From $198 for t-shirts to $995 for jumpsuits. Price Range: $$$$. HQ: New York City. Shop Minimalist NYC
#REUSE:Wear everyday to impact
Circular fashion economy is not achieved overnight after a single purchase, or with a couple of sustainable fashion items in your wardrobe. Normally, building a habit takes an average of approx. 66 days. To ensure our new sustainable purchases are here to stay, the most realistic, effortless purchase decision is to start with basic or home items that can be used on a daily basis.
Check these Distinctive Actors who focus on making a daily impact:
3. Boyish Jeans
"We've been Carbon Neutral Since Day 1"
Boyish makes really good jeans. The kind of good that makes you feel comfortable in your own skin, as much as the choice to support their sustainable decisions in using recycled and vegan materials and #INVISIBLEBAG packaging, covering fundamental freedom principles in their code of conduct, and tracing their full supply chain. Best Match: Sustainable women who are looking for denim at an attainable price. Product Range: A collection of denim from jeans, jackets, shirts, shorts, to dresses. Price Range: $$$. HQ: Los Angeles. Shop Boyish
4. ONE Essentials
Everyday positive radicalism made easy
Let's be honest, sustainability can be complicated but ONE Essentials is here to verify and simplify things for you. The essential wear brand offers 100% Transparency in small bites, including their circular model, fabric mills and factory audits, and their packaging promises. Next up, they are aiming to make their climate impact receipt publicly available. Best Match: Beginner eco warriors who are trying to make a positive change with base layers. Product Range: From underwear to everyday sweatshirts for all genders. Price Range: $$. HQ: London. Shop ONE Essentials
5. Sunday Bedding
Textile Diversity for a more Sustainable Economy
Dreaming of a silky-smooth, yet affordable eco-bed sheet? Sunday Bedding has just the thing! Not only is each piece produced with GOTS certified cotton, bamboo rayan, and linen, the sheets are also made to meet water and energy reduction goals that are updated every year. Order now to receive your new bedding in #INVISIBLEBAG mailers and cute dead-stock fabric wraps. Best Match: Homebody who loves to stay in with well-made and well-priced sheets. Product Range: Bedsheets in a diverse textile range and home accessories. Price Range: $$. HQ: Singapore. Shop Sunday Bedding
#RECYCLE: Turning "trash" into treasures from start
Recycling is an essential step to close the loop and keep materials circulating in the fashion world. The good news is, recycled textiles are gaining popularity among fashion brands and becoming more accessible. Although the clothing recycling systems may not yet be well-established in every market, shopping with fashion brands who embrace recycled materials is a good way to regenerate value for the 'unwanted' materials.
Check out these Distinctive Actors who focus on recycled materials:
6. Good Days Activewear
Sustainable and ethical decision making from the heart
Aspiring to be the zero waste force in the circular economy, Good Days Activewear aims to create most of their activewear with reformed high quality yarns from plastic waste; their thoughtful selection includes 100% traceable recycled polyester FENC® TopGreen®, recycled fish-nets nylon ECONYL®, and recycled cotton-blend polyester produced by REPREVE®. Best Match: Women who aspired to kick-off an active, circular lifestyle all at once. Product Range: Different activewear options to fit your sport type: run, dance, squat, hike, flow. Price Range: $$. HQ: Hong Kong. Shop Good Days Activewear
7. Pacsafe
On a mission to protect what's valuable, including our planet
Pacsafe came out with the anti-theft bags concept to protect our personal valuables, and later extended to care for the planet on which we travel. As of today, they have recycled about 2,305,493 ocean-bound plastic bottles into rPET fabric by estimation, which is expected to grow and fulfill up to 75% of the Pacsafe bag production on the horizon. Best Match: Frequent travelers seeking extra security for their adventures. Product Range: Protective bags, backpack, wallets, and essential accessories. Price Range: $$. HQ: Hong Kong. Shop Pacsafe
8. DK Active
Bringing an ethical and inclusive energy to activewear
Coming from Australia, DK Active leads by example to introduce renewable energy in its supply chain to reduce production impact locally, as well as an inclusive energy to the global activewear industry. Listed by PETA as a vegan brand, It uses GOTS certified cotton, recycled nylon ECONYL®, SPF50+ prof Italian lycra, comfy finish supplex lycra in their range. Best Match: Women of all size and colors who prioritize comfort in activewear. Product Range: A variety of women's activewear, including a collection for maternity. Price Range: $$. HQ: North Brisbane. Shop DK Active
#REVOLUTION: Circular Fashion is full of Possibilities
In fact, there are a lot of RE-possibilities other than reduce, reuse, recycle, refurbish, resell, rent, repair, and many more. We dare you to think out of the box by imagining the circular act that makes the most sense for your lifestyle!
Check these Distinctive Actors who focus on changing the norm:
9. Osei-duro 
Empowering the women of Ghana, one batch at a time
Hosting boutique manufacturing handmade with non-toxic dye and traditional techniques by the women of Ghana, Osei-duro believes that economic and environmental sustainability and justice are intrinsically linked, and practices their beliefs by learning and doing. Best Match: Traditional textile and history lovers. Product Range: Womenswear and Kidswear in beautiful snakebite, rorschach and carmine print. Price Range: $$$. HQ: Ghana. Shop Osei-duro
10. Retrovert
Sustainable fashion RETROlution now! 
Behind the ambitious circular platform Retrovert, are a passionate group of powerful people. Made up mostly of former unemployed youths and young mums, these individuals are now ambassadors who are actively engaging the public in joining the sustainable and experiential fashion movement. Best Match: Fashion lovers looking for sustainable experiences: online thrifting, clothing upcycling and donation, and more. Product Range: All kinds of female vintage fashion items you can, or cannot imagine! Price Range: $$. HQ: Hong Kong. Shop Retrovert
11. R4 Clothing
Challenge the status quo to normalize sustainability in fashion
R4 Clothing is a fashion brand established upon the principles of circular economy, on a mission to make it a norm for fashion to go hand in hand with sustainable forces and responsibly produced products. Every R4 purchase = 1 tree planted and 5% donated to the ocean. Best Match: Eco fashion warriors who dare to challenge the status quo. Product Range: Casual wear made from organic cotton, bamboo, hemp and recycled plastic. Price Range: $$. HQ: London. Shop R4 clothing
12. Jupyeah
Consume less. Share better. Jup and share unwanted goods
Jupyeah is a leading swap platform in Hong Kong, operating an online community and occasional physical events for everyone who wishes to share their goodies, or who is up for a treasure hunt in the circular systems. Best Match: Anyone who has unwanted items and is willing to give them a second home. Product Range: Swapping means you will always find something new and different on the platform. Price Range: Free. HQ: Hong Kong. Swap on Jupyeah.com
Now it's your call, Eco Fashionista!
It's truly now or never to get the fashion industry into good shape by making a shift towards a circular fashion economy and push to get things right for the coming 10 years. Right now, the major barriers that stop the circular fashion economy scaling up are low durability and recyclability in garment products, lack of consumer engagement, and a complex web of logistics.
"TAKE THE DISTINCTIVE ACTION AND BE THE EARTH HERO. TOGETHER WE CAN MAKE A CHANGE!" — Devana, Co-founder of Invisible Company
In this inclusive circle, whether our role is big or small, we all have something to contribute so we can overcome these obstacles together. The rule of thumb to keep in mind is, to create value WheRE-ever you can: reduce, reuse, recycle, and revolution - now! By having you join us and our distinctive actor communities to practice a sustainable and responsible lifestyle, there is still a chance to meet the 1.5 degree global warming pathway by 2030. Take the distinctive action and be an Earthero. Together we can make a change!
To discover more fashion brands with sustainable initiatives, please head to our Distinctive Actors page.
…
You may also like: What is biodegradable, bioplastic?, Compostable packaging: Can it be effectively used in your region?
Source: