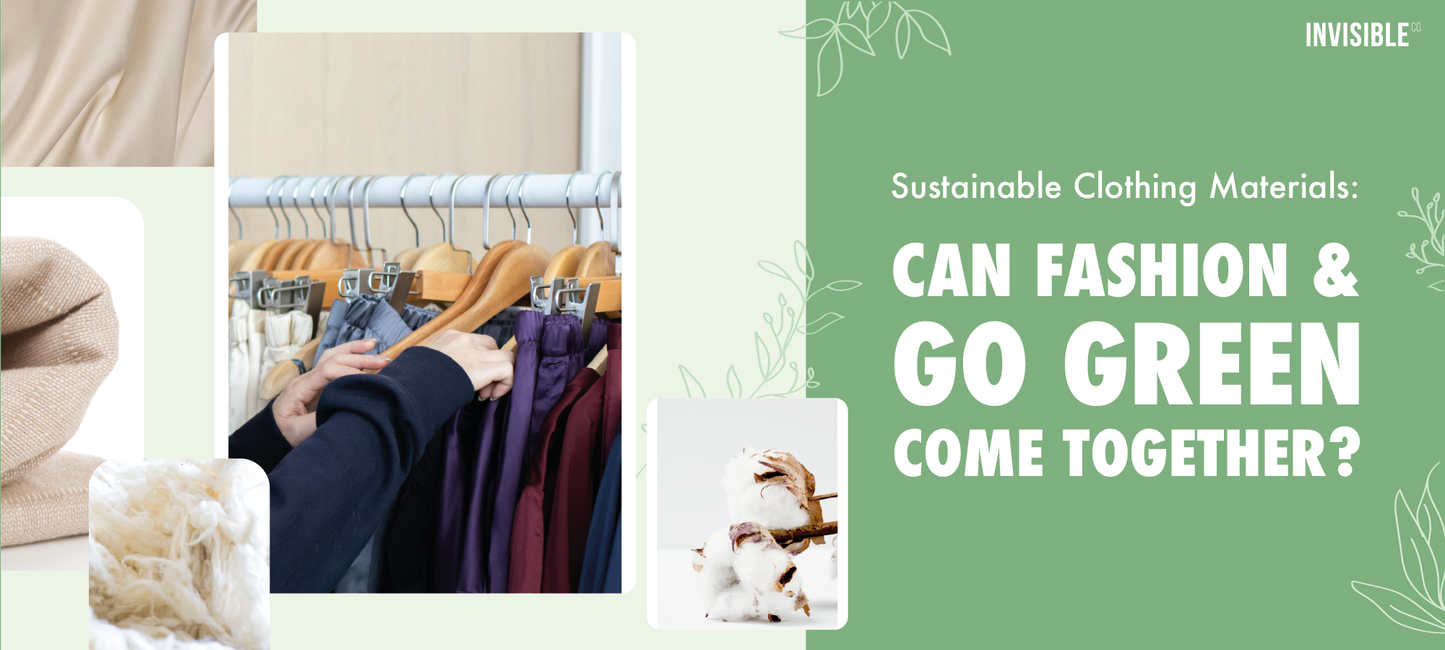 Aquick reply from ChatGPT AI to the question "Can Fashion And Go Green Come Together ?" - "Yes, fashion and going green can definitely come together." Indeed, it is much easier to get information about how to live a greener life and learn to avoid being a stylish killer by simply asking a question via tools like ChatGPT.
However, converting them into actions and making a change with tiny habits and small actions are more important. For instance, stop using conventional plastic poly mailers, pack and deliver your online orders by switching to eco-friendly and water soluble #INVISIBLEBAG! Catch up on the green trend and learn more about sustainable fashion from our blog (Not written by AI)!
Source: 
Courtesy of ChatGPT
Have you ever been tempted by the fashionate and low cost clothing at the chain fashion stores? How many times did you make a purchase becuase of the seasonal sale, fancy mix and match at those stores or fast fashion brands? Impluse buying are more likely to satisy what we want than what we really need, it would easily lead us to wear them less and discard them even sooner.
The fashion brands grab the attention of consumers by rolling out a series of green elements in their promotion indeed is a good motivation. Some fast fashion companies are communicating on sustainability and recycled materials on their website, such as Zalora, Cotton On, SHEIN. To be a responsible consumer, we can also look into more details and explore sustainable materials in Green Fashion.
Do you know the materials you are buying?
A 2021 report from the World Economics Forum identified fashion, and its supply chain, as the planet's third largest polluter (after food and construction), releasing 5% of the world's greenhouse gas emissions. Fibers are the most responsible for the gas emission, and here are some of the most common fibers in the textiles industry:
1. Cotton
Cotton is a natural fiber and clothing material, compared with polyester or nylon, it doesn't create any plastic microfibres during the washing. On the contrary, cotton counts for a major share in fiber production. It is regarded as one of the most environmentally damaging raw materials for making clothes, largely due to the large consumption of water, use of fertilizers and pesticides in the cotton's plants. Approximately 2,700 liters of water are needed to produce a single cotton T-shirt. That is the amount of drinking water for an individual for two and a half years. And for dyeing fabrics consume about 5 trillion liters of water every year globally. If we produce a kilogram of cotton fiber, about 20,000 liters of water is needed.
2. Silk
Silk is a natural protein fiber, but it might requires large amounts of energy to plant mulberry trees in which silkworms thrive.
3. Wool
Wool taken directly from sheep is called "raw" or "greased wool". The wool is scoured in a series of alkaline baths containing water, soap, and soda ash or a similar alkali to remove the contaminants.
4. Hemp
Hemp is a natural and renewable resource. It is a high-yield product and only consumes little water to grow. Only 500 liters of water is consumed to produce one kilogram of hemp. Hemp fabric is lightweight, soft and more resistant but wrinkles easily. Therefore, its popularity is still lower than cotton.
5. Linen
It is a biodegradable material made from flax plant fibre, and usually the whole flax plant can be used to create product without anything is wasted, one of them is flaxseed oil. Linen is commonly seen in summer clothing as it absorbs moisture without holding bacteria. However, it crinkles easily.
6. Synthetic material
This includes polyester and polyamide (nylon) which are mainly made from the fossil fuels and are non-biodegradable. Synthetics derive from petrochemicals and comprise 62% of all fibers produced, with polyester used most widely. However, such as Nylon is elastic and strecty, it is commonly used in activewear.
7. Lyocell (or Tencel)
Lyocell is made from plant cellulose, is a biodegradable fiber. It is produced by dissolving wood pulp with an NMMO (N-Methylmorpholine N-oxide) solvent. This dissolves the wood pulp into a clear liquid which turns into long, thin fibers for production.
Other alternative and sustainable materials?
Apart from the above most commonly seen clothing materials, you might have heard of below sustainable fabric and materials:
1. Pineapple leaf fiber
Piñatex, a non-woven textile, made from waste pineapple leaf fibres and PLA, with a water-based PU resin to coat. This is a creation of Ananas Anam, an animal free and vegan alternative to leather.
2. Banana fibre
Bananatex® , is made entirely from the naturally grown Abacá banana plants. This was developed by a Swiss bag brand and material innovators QWSTION. Planted within a natural ecosystem of sustainable mixed agriculture and forestry, the plant is self-sufficient, requires no pesticides, fertilizer or extra water. Its lightweight, mediumweight and heavyweight fabrics are widely deployed in multinational clothing companies.
3. Cactus
Desserto®, is made of Nopal cactus, without damaging the cactus itself, only selecting and cutting the mature leaves of the plant, growing with the rain water and earth minerals, this is an animal free and vegan alternative to leather, and meanwhile has competitive features with the animal leather which are able to handle humidity, liquids and breathable.
4. Mycelium
Mylo, a material is made from mycelium (and mushrooms are the fruit of mycelium), an animal free and vegan alternative to leather. This material has been used by Stella McCartney and also adidas to create the first-ever shoe made of Mylo. This material is created by Bolt Threads, grown in indoor vertical farming facilities.
5. Ramie
Ramie fabric is from the fiber of the ramie plant. It has high tensile strength and fineness. Similar to hemp, it doesn't ues much water and no pesticides to grow compared to cotton.
6. Nettle
Nettle fabric is made from nettle fiber, it requires little water to grow without pesticides. Unlike hemp fibre, it is like a combination of silk and linen as the fibre shines daily, and it is also breathable.
7. Deadstock fabric
During the clothing manufacturing, textile waste will be created. Deadstock fabric can be unsold, unused or excess fabrics, or factory scraps, off-cuts and mills that couldn't pass the quality control during the production. Instead of discarding them in the landfill, now brands can reusing them. Fabscrap is recycling of textiles for business in New York City and Philadelphia, and designers, brands can use any material that they collect. Another wearable art brand Earthero Studio produces their collection made of deadstock fabric entirely, including the collaboration with Invisible Company.
8. Regeneratively farmed cotton
Cotton producers are incorporating a number of regenerative agriculture practices to support the sustainability goals of increasing soil carbon and land-use efficiency while decreasing water and energy use, greenhouse gas emissions, and soil loss per acre.
9. Econyl
Econyl is regenerated from waste nylon products such as fishing nets, nylon industrial waste, carpet flooring, and processed into yarns and polymers, launched by Aquafil Group. This can be used in sportswear, swimwear, the material can be recycled, however it might release plastic microfibres during washing.
10. RPET fabric
RPET fabric stands for recycled polyethylene terephthalate, or recycled PET. PET is a strong, durable and recyclable material that is used for soda bottles, water bottles and food jars, while RPET can be made into such products as blankets, shoes and more.
RPET is produced by collecting, sorting and recycling PET, then refining the material into flakes that can be turned into new products. By using RPET, it gives PET a second life. However, the downside is it might release plastic microfibres during washing.
So what's the takeaway? No matter from the perspective of manufacturers or the consumers, we can always consider multiple factors before buying, it could be price, quality, materials and functionality. Speaking like Polyester fibers which resist liquid droplets meaning that the fabric will wick away moisture rather than soak it up, then it becomes an ideal material for outdoor activities. We can be a conscious consumer by knowing more of what the material are we buying, what the brand are we choosing if it aligns with our value.
...
You may also like: Ditch linear, Go Circular Fashion Economy (ft. 12 Distinctive Actors) , Welcome To A Greener Wedding! Post-Covid Low-Carbon Wedding Inspirations
...
Find more articles from keywords: eco friendly clothing, ethical clothing,fair trade clothing,fashion beauty,slow fashion