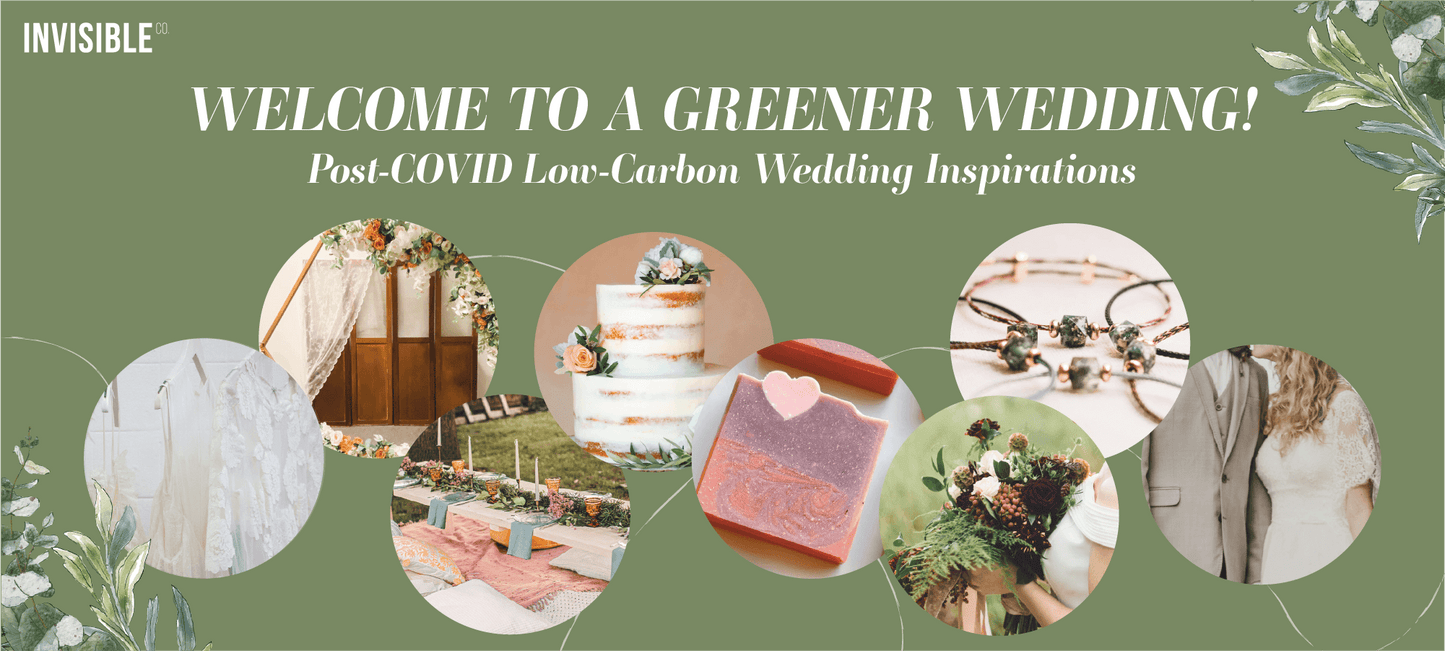 The long waiting is over for holding a 'normal' wedding as the social restrictions will be released gradually. Nevertheless, it is not difficult to avoid single-use items and create less waste for your wedding by taking practical tips and actions, and switching to a rental instead of buying wedding and banquet dresses, festive supplies for a traditional ceremony, and decoration flowers; and minimize the number of guest souvenirs. With such an easy and achievable action change, you can have an elegant and unforgettable eco-friendly wedding.
#EcoWithAttitude is a Timeless Trend: "Rent to replace buy"
It might have been fancy to own a piece of wedding dress for every girl when you were young, but it is just "one in a lifetime" clothing. Therefore, why not renting a wedding or bridesmaid dress instead of buying?
Bridal Gown
It is nothing new to the concept of wedding dress rental! A wide range of gown brands and dress style options for the bride-to-be in the Hong Kong marriage market, no matter whether you are keen on western elegance, or prefer Korean romance, even favor minimalistic wedding dress design. It is easy to find a perfect fit through bridal rental shops, you could also rent it on Wardrobista for pre-wedding shooting, cocktail parties, or your banquet dresses. As well as borrowing a Chinese wedding gown from traditional-old-shop such as Lucky Embroidery and Koon Nam Wah, which you can borrow and return gowns for wedding couples depending on your sizes and styles. As you can see, the eco-conscious culture of renting wedding dresses had been rooted in Hong Kong for a long time. 
Aesthetic Western Wedding Dress
Minimalistic Wedding Gown
Trending: "Sustainable Wedding Dress"
With gaining awareness of the circular economy from the fashion industry, more wedding brands are starting to use renewable materials to produce sustainable wedding dresses. For instance, Linli Boutique,  one of the leaders in the industry, has launched a collection of sustainable wedding dresses which is the great news to Asian brides who are concerned about the environment and fashion.

(Source: Instagram @linli_boutique
)
Stop wasting money buying unfit bridesmaids' dresses!
Left Top: Bridesmaid Dress
Right Top: Festive Supplies
Right Bottom: Floral Decorations
So much to deal with when you prepare a wedding, including the accessories from head to toe of the bride and groom, wedding crew and staff costumes, as well as the entire schedule in every detail on the big day. Save your time by avoiding buying unfit bridesmaids' clothing and ceremony supplies, it is very convenient to find all those needs from a one-stop wedding rental platform like Misstomrsgreen, while it eases the burden from your preparation work and reduces waste by buying one-off usage items. Another green tip is to collect second-hand materials from families and friends so that you can avoid waste at the source.
Greener souvenirs in low quantity
According to the traditional culture, it is crucial to send out printed invitation cards and prepare souvenir gifts for the guests, especially for the elder relatives and seniority in the Chinese culture, in which unnecessary waste by overprinting would be caused seems to be inevitable.
Still, there is always a way out with solutions! Communicate with your guest before your big day in order to control the "just-fit" amount and minimize the number of printed invitations and gifts.
Besides, eco-conscious awareness could be built through selecting sustainable materials for invitation cards, eco-friendly gifts with biodegradable and compostable packaging to your beloved guests.
Handmade Paper Invitation
Before you print the physical invitation card, let's send out an electronic version first and ask about the guest preferences via a questionnaire! By collecting guest answers in advance, you can control the number of cards and gifts precisely and have a better plan for the food and seat plan arrangement. Remember to keep an eye on the minimum quantity of printing and find printing houses that could provide printing services in small amounts, or you can choose Somood Studio, they provide hand-made paper printing services, that you could precisely request the number of print cards and each invitation cards in the unique pattern due to the texture of the hand-made paper. 
Handmade Paper Invitation Card
"Turn Trash Into Treasure" Bridesmaid Gift
To express thankfulness for years of companionship and selfless dedication from your best friends, friendship jewelry is one of the most popular choices of bridal shower gifts from the brides. Waysouthk is a local sustainable business that upcycling from household food waste and turning them into fashionable jewelry handcrafted by underprivileged women while providing job opportunities to young single mothers. An eco-friendly jewelry gift, it embeds the symbolic meaning of sustainable friendship between brides and their best friends.
Greener Guest Souvenir
Soap Yummy is a local handmade soap brand, that creatively integrates natural food ingredients into handmade soap, lip balms, and skincare with a motto of "Yummy to the skin & Gentle to the earth" and made with sustainable ingredients and delivered in plastic-free packaging. Hand-made soaps are the ideal souvenirs for newlyweds to share their happiness and thankfulness which it is even better to make your guests feel welcomed by asking about their preference for soap aroma and scent.
#INVISIBLEBAG Water Soluble Eco-Packagings
If you are searching for eco-friendly gift wrapping, #INVISIBLEBAG would be a great fit for eco-lovers, as this is water soluble and landfill biodegradable, your friends and family could even enjoy the experience of dissolving it in hot water after the unboxing. According to your own requirements and size specifications, you can purchase differently on our website for different types of our bags including Mailers, Garment Bags and Shopping Bags from 200 pcs and you can also start with our trial sets.
#INVISIBLEBAG Mailer For Shipping Accessories 
#INVISIBLEBAG For Fashion Wear
Last but not least, an eco-friendly wedding could be romantic and create unforgettable memories without creating excessive waste or harming the earth. The top priority of a wedding is to witness the true love of two lovebirds and treasure this moment with your closest families and friends. Say goodbye to the routine wedding and say hello to a greener and unique wedding.
...
You may also like: Ditch linear, Go Circular Fashion Economy (ft. 12 Distinctive Actors) , Welcome To A Greener Wedding! Post-Covid Low-Carbon Wedding Inspirations
...
Find more articles from keywords: eco friendly clothing, ethical clothing,fair trade clothing,fashion beauty,slow fashion