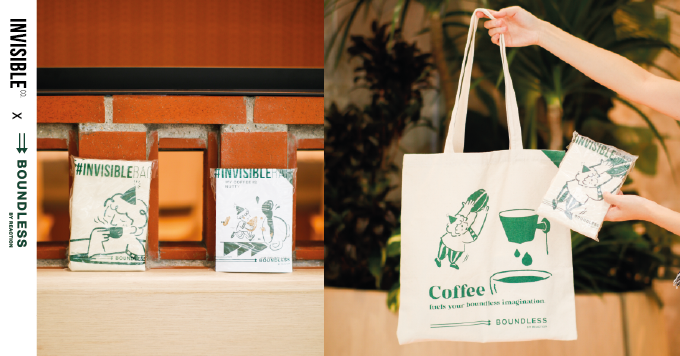 When Boundless by Reaction Cafe meets #INVISIBLEBAG
Hong Kong-based coffee roaster REACTION had started establishing its coffee journey from a coffee roasting factory to its fifth branches; they then extended to another sister brand Boundless by Reaction. Located on the ground floor of a busy shopping mall, together with an outdoor garden deck, the black-green Boundless by Reaction logo catches your eye. Many diners come for tasting the signature Dutch Baby salty or sweet pancakes baked with a cast-iron pan and paired with high-quality local roasted coffee. The new cafe environment is decently decorated by choosing distinctive stone bricks and good lighting from the floor-to-ceiling glass window that allows visitors to enjoy delicious food and relax from busy life with the delicate garden view. Moreover, they launched special edition tote bags and coffee drip bag sets to celebrate the new shop opening, while more worth mentioning they switch to using #INVISIBLEBAG as greener package option in this collection by considering environmental protection.
BOUNDLESS launched special edition tote bag, packed with #INVISIBLEBAG
Taiwanese Cultural Creator Collaboration
Coffee is the muse of inspiration, and BOUNDLESS is bringing unlimited imagination through the unique aroma of coffee. To celebrate this new branch opening, they were happy to cross over with a Taiwanese illustrator Ms. 雅致 and launched the "Coffee Elf" collection, including the special edition Tote Bag and signature coffee drip bag sets, the art-like coffee aroma is leading everyone to the entrance of elf's coffee world created by the unique illustration design style of Ms. 雅致. Coffee drip bag sets are in two flavors, either Nutty or Fruity, for coffee lovers to purchase at the new branch directly or order at their official website, both of them are packaged in water-soluble #INVISIBLEBAG.
"Coffee Elf" Drip Bags Set and Tote Bag
Source From: Instagram @boundlesscoffeehk
On REACTION's official website, it described the package and how to dissolve #INVISIBLEBAG
Source From: REACTION Coffee Roasters Website 
Customize Your Eco-Friendly #INVISIBLEBAG
When a brand makes a switch to a greener option due to the consideration of environmental pollution, you have already become the industry leader and motivator to contribute to sustainable development.
Get some inspiration from the Boundless by Reaction "Coffee Elf" collection to customize your unique #INVISIBLEBAG design, the BOUNDLESS team picked the transparent colored bag with dark green double-sided eco-printing and created a one-of-a-kind packaging design and started their sustainability journey by replacing conventional plastic bags. 
If you are also interested in custom-made #INVISIBLEBAG for your own brand, click here to learn more about the details of eco-friendly package customization.
Boundless by Reaction x #INVISIBLEBAG
Customized Environment-Friendly Coffee Drip Bag and Tote Bag Packages

A Pet-Friendly Outdoor Corner
It is worth mentioning that Boundless by Reaction Tsuen Wan has an outdoor pet-friendly corner where furry friends and their owners can enjoy quality time with delicious food and coffee and the best spot in the cafe for pets to take photos. Boundless by Reaction provides mouth-watering Dutch Baby All Day Brunch with locally roasted coffees that attract a lot of loyal fans to return and support them again.
Adorable MongCha is enjoying sunbath at the outdoor cafe area

Boundless By Reaction Branches Information:
Tsuen Wan Branch:
Shop G75A-76C&D, G/F, Citywalk, 1 Yeung Uk Road, Tsuen Wan
Opening Hours: Mon to Sun 0800 to 2200
Tai Po Branch:
Shop C, G/F, 15 Tin Kok Road, Tai Po
Opening Hours: Mon to Sun 0900 to 2130
...
You may also like: .3coffee - The planet friendly coffee with benefits!