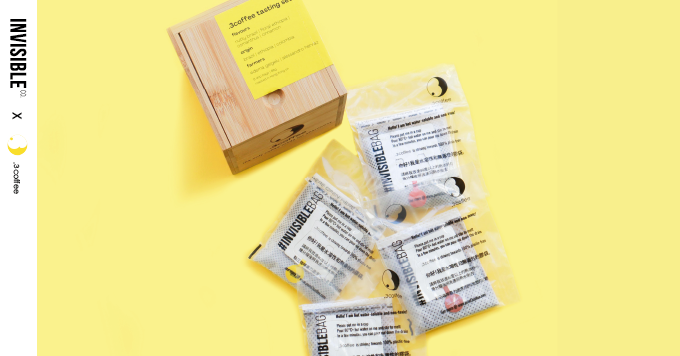 It's time for us to stop prioritizing convenience over the environment! So I hit up Invisible Company for an innovative and invisible drip bag pouch! It dissolves in hot water, degrades in a landfill environment, and our customers love the concept and mission! Janice Wong
What is .3coffee and what makes it so special?
.3coffee is special for many reasons but one of our favourites is the fact that it's one of the only coffee's currently on the market that is made for the afternoon. Yep! No more having to compromise between wanting to boost productivity but then sacrifice sleep, now you can drink light and still sleep tight!
.3 coffee Founder Janice sharing about .3coffee
Aiming to solve the problem of caffeine reliance and long-term fatigue caused by caffeine dependency, this lab-tested 30%-caffeine coffee is a guaranteed safe boost for productive afternoons, without compromising on flavour or quality.  
How did .3coffee start?
Janice Wong, the co-founder of .3coffee, studied environmental management in Hong Kong and pursued a master's in urban agriculture in France as her ultimate goal is to create holistic eco-villages in developing countries. While she was studying in France and working as a data analyst as her first job, she found out that she and her colleagues shared a common dilemma of whether or not to risk an afternoon coffee and the side effects it can bring.  
.3coffee Founder Janice farming in France
A full day of work (and then after work activities) would lead to a 'need' for coffee but this would then result in a poor night's sleep and even worse energy in the morning - and then the cycle would just get worse with even more coffee required the next day! Janice discovered that caffeine can stay in our systems for 10-20 hours depending on the individual, so she wanted to find a solution and source a coffee somewhere between decaf and full espresso, which wouldn't affect the brain and compromise sleep quality and energy levels in the long run. 
.3 coffee Founder Janice experimenting with coffee formula
Brain friendly and earth friendly coffee!
Not just delicious, .3coffee is also making great efforts in ensuring it can be as sustainable as possible. For starters, it sources its coffee from a local roaster, who collaborates and sources their beans straight from farmers and on each batch of coffee, you can find the farmers' name on the box. 
.3coffee tasting set in bamboo box featuring famers' names
.3coffee is also striving for 100% plastic free packaging and coffee is sold in a reusable bamboo box, which not only looks great but is functional and designed to be reused for returning customers. Individual drip bags are wrapped in calligraphy paper which in turn, are packed in water soluble, biodegradable #INVISIBLEBAG.
Why was #INVISIBLEBAG chosen for packing the individual drip bags?
.3coffee x #INVISIBLEBAG - Water soluble coffee drip bags
Janice is eco-conscious and did her research for each of the materials used to pack .3coffee but she also had to focus on what her target audience would want - convenience and quality. Drip bag coffee is one of the most convenient methods for producing high quality results but these are typically wrapped in a combination of aluminum and plastic, making them not recyclable at all. 
.3 coffee Founder Janice introducing .3coffee at the Loha expo
Janice considered PLA, but what many people don't realise is that although this is a plant based compostable material, we do not have industrial composting facilities in HK yet (as is the case for most countries in Asia at the moment) so this wasn't an option either. Janice then had this to say:
"It's time for us to stop prioritizing convenience over the environment! So I hit up Invisible Company for an innovative and invisible drip bag pouch! It dissolves in hot water, degrades in a landfill environment, and our customers love the concept and mission!"