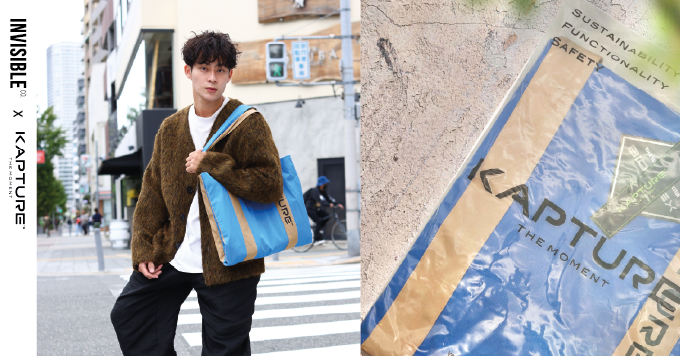 Upcycling Fashion From Japanese Green Aesthetics: KAPTURE x #INVISIBLEBAG
How do you find "Climate Change" is relevant to your daily lives? In 2023, some of the ski resorts in Europe were forced to close due to the heatwave which led to a lack of snow in the mountains. When it comes to individuals or brands, can we support sustainability by taking even small actions? KAPTURE, a fashion brand based in Hong Kong and Japan, pioneered FASHION 2.0, which embraces sustainability in every aspect, to showcase a brand that could make a change to advocate sustainability.
We Are All Fashion 2.0
Challenged by extreme weather and virus, KAPTURE pioneered FASHION 2.0, which embraces sustainability and antiviral in all of its travel collection, creating new definitions and value to fashion. Our lives have irrevocably changed ever since the global pandemic. Things like traveling, and spending precious time with loved ones that used to be so simple, are not unconditional as it seems. KAPTURE awakens everyone to capture the moments of life and create their brand new journey. Meanwhile, it is never too late to start your sustainable journey at this moment for developing a brighter and greener future for the next generations.
Source From: KAPTURE's Official Website
Why Sustainability Is Important To KAPTURE?
Sustainability is the key to preserving our natural resources, KAPTURE believes that everyone should have the responsibility to make an effort to reduce pollution and conserve resources. However, fabric wastage is an unavoidable by-product of garment production and has created far more environmental issues comparatively. KAPTURE is thriving to bring new value to those undesired waste by collecting and combining with the creativity of the Japan design team and the pioneer antiviral BioNTex™️ technology, which gives new life to another meaningful product cycle in a responsible manner. On top of that, KAPTURE endeavors to adopt as much sustainable material as possible, such as the use of recycled polyester for the care label and selecting biodegradable packages, in a way to reply the climate change.  
BioNTex™ Technology: Good Health And Well-Being
With the impact of the pandemic, the demand and public awareness of antiviral protection is still continuously rising. KAPTURE applies BioNTex™ coating technology on the upcycling fabric which constructs a positive polymer structure, together with Japanese positive ion addictive and high-pressure treatment on their customer products. This could protect the customer away from bacteria and viruses as well as prevent secondary infection. Furthermore, their products are SGS certified that can effectively kill more than 90% of coronavirus within 5 minutes.
Source from: KAPTURE's Official Website

Upcycled Wasted Fabric: Sustainable Materials
KAPTURE thrives to utilize upcycle fabric and sustainable materials, including recycled polyester and bamboo fibre, which combined with the creativity from Japanese aesthetic designs and together with the pioneer antiviral BioNTex™ technology on their products. While they are saving the environment by reducing by-products from garment production, they are also turning fabric wastage into stylish and meaningful products and opening a new chapter for upcycling fashion in Asia. In addition, KAPTURE's care label is made of recycled polyester which indicates how they apply a detail-minded working attitude from the root of Japanese culture and a high level of eco-consciousness to their product designs.
Source from: KAPTURE's Official Website
Why #INVISIBLEBAG for KAPTURE?
#INVISIBLEBAG and KAPTURE both shared the same vision of promoting sustainability in the most creative and responsible way. The water-soluble #INVISIBLEBAG is a perfect packaging solution for keeping wastage to a minimum and more importantly spreading sustainable messages. Moreover, KAPTURE delivers a message of upcycling unused materials and turning them into desirable, practically useful customer products, especially in this post-pandemic era.
KAPTURE X #INVISIBLEAG Customized Eco-Friendly Packagings
Source from: Instagram @hk.kapture

KAPTURE The Moment
The eye-catchy line and pattern bag and accessories designs of KAPTURE, also named "KAPTURE The Moment", is inspired by capturing daily life scenes and travel experiences from Japanese designer, Kazuto Suzuki, who has been in charge of a wide variety of designs and productions, regardless of genre, such as idols, artists' special costumes, and prop designs mainly using cloth. He applies such talented creativity to the field of upcycling fashion and presenting the state-of-art of sustainability.
Kazuto Suzuki
Designer of KAPTURE
Source from: KAPTURE's Official Website
Any Future Plans?
In the near future, KAPTURE will be launching more traveler products and a brand-new activewear line that remains insistent on the upcycle and sustainability concept. While they are also excited to collaborate with a Japanese famous cartoon character which will be officially announced soon.
KAPTURE - Hong Kong
KAPTURE - Japan
KAPTURE - Youtube
...
You may also like:  Best Teammate of #INVISIBLEBAG: Motion Jet Collection from Taiwan