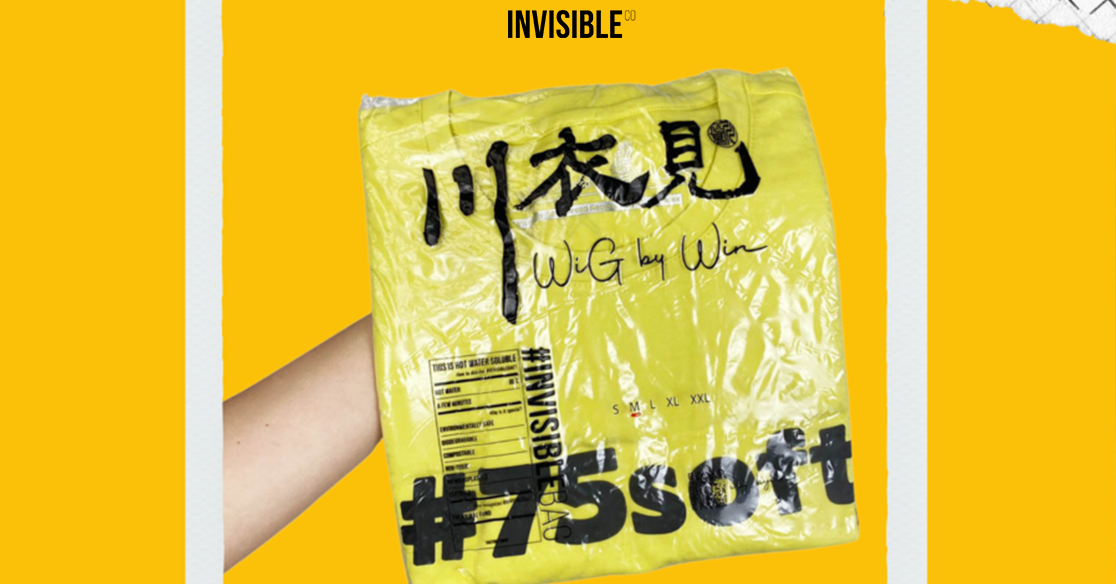 Since 1981, Win Garment has been a reliable manufacturing partner for many renowned retailers in the U.S. and Canada. After 40 years, they launched their own eco-friendly line WiG by Win and chose the water-soluble #INVISIBLEBAG over traditional packaging
#INVISIBLEBAG for sustainable line WiG by Win
Image courtesy of Win Garment
In 2020, Win Garment launched its first sustainable line, WiG by Win intending to give back to the earth. It's a merch collaboration that pays tribute to the Company's love for the planet. It aims to be fun, caring and enlightening for their customers, and choosing the water-soluble #INVISIBLEBAG emphasises this point — from within, to without.
Engage your customers with #INVISIBLEBAGS
While many eco-brands make sustainable promises, only a few can successfully articulate their green efforts. By providing a joyful yet tangible experience which visualises the invisible impact, customers are easily engaged and included on your company's sustainable journey.
Social Post on Win Garment Facebook Page
Learn more about the distinctive actor Win Garments
Image courtesy of WiG by Win
Win Garments is a Taiwan-based manufacturer that provides a competitive solution with strong ethical beliefs. Their business has been exporting garment goods made in Cambodia to the U.S. and Canada since 1981. Client portfolio includes Walmart, Adidas and Macy's.
Fun fact: The collection's Chinese name 川衣見 translates as wear a piece of (sustainable) clothing, which literally expresses their notion of taking small steps to make a great impact.