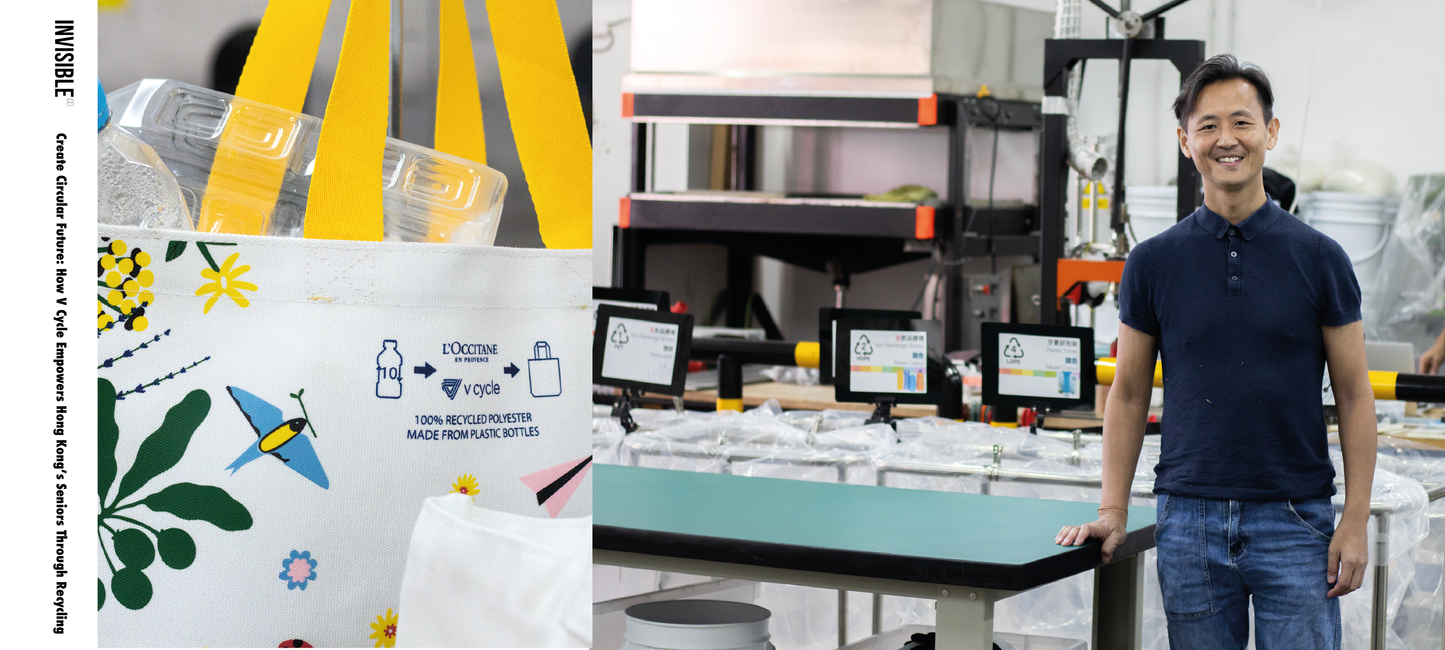 Hong Kong generates over 5,000 tonnes of waste (glass, metals, paper and plastics) per day, only 2% of them got recycled and transformed locally while the rest made it to the overloaded landfills. Hong Hong's elderly population is counted as 1.3 million citizens, but unfortunately, over 580,000 are identified as living under poverty conditions. For some this sad situation leads them to keep working hard despite their ages, with a low wage reward, and often they become waste pickers and cardboard collectors.

Witnessing these environmental and social issues, in 2017 Eric Swinton, founder of V Cycle, decided to tackle this and help the community's old workers with a purpose. In this issue of Meeting With Experts, let's look at how V Cycle rejuvenates the elders and improves their livelihood through recycling.
A Virtuous Cycle of Empowerment Through Recycling Potential
V Cycle does more than just collect and recycle plastic, paper, metal, glass and e-waste from businesses and schools. Eric provides job opportunities for underprivileged elders, providing them a stable income, in a safe environment, giving them an important meaning and contribution, without the uncertainty of tomorrow as they used to know being a waste collector.
How does it work? V Cycle creates partnerships with retailers, brands, corporates and other entities willing to support collecting, recycling, and the senior workers. When the recyclables arrive at their facility, the highly motivated and meticulous team of silver haired sort them according to each material type and future possible recycling purposes. Once well segregated, the recycled waste is sent to recyclers and converters partners within Hong Kong, where the trash would eventually have new life and mission into a new product. V Cycle also works on building its own facility to transform waste into a new product, experimenting and engineering material metamorphosis to for example a fully recycle content eyewear frames and cases, stools, and outdoor accessories.
Scott Edwards is the sustainable design lead at V Cycle, he shows us how recycled plastic can be shredded, upcycled and compressed, it can convert into a colorful board.
A 2018 interview by Hong Kong Free Press showed elders collecting cardboard on the streets with their full trolley before going to the recycling depot. Photo by
Isaac Lawrence/AFP
Logitech Hong Kong recently teamed up with V Cycle to start a recycling program. Elders who now work at V Cycle have transitioned from collecting cardboard to separating keyboards/mouse and gained job opportunities and new skills. Photo Credit:
V Cycle Facebook
Recycling With Transparency To Create A Circular Economy
Many people wonder where recycling goes. V Cycle comprehends this concern thoroughly, and aims to give back trust through transparency and create a transparent circular economy model. RGF Environmental New Material (RGF) which operates under IWS Waste Management collaborates with V Cycle to recycle waste plastic by shredding, washing and pelletizing it to create high quality pellets. For example, polystyrene (PS) is used to produce styrofoam, single-use cups which are very brittle and it would leave a visible white line if you try to crack it. At RGF, they can pelletize and compound PS into a higher impact PS (HIPS) which can be used to make durable frames of glasses with higher value.
Recycled polyethylene terephthalate (rPET) is commonly made into clothing fabric, but releasing microplastic during washing is a concern, so V Cycle uses recycled PET to make tote bags and umbrellas that don't need to be washed frequently or can be hand wiped with a damp cloth.
For some plastics and glass, V Cycle has machineries at their facility to break them into flakes or sands, and afterwards these can be sent to Eco Bricks to create colorful, sustainable concrete paving bricks.
This is a recent project of Eco Bricks in Gold Coast Piazza Hong Kong, over 5.4 tonnes of plastic were recycled and converted into these sustainable bricks. Photo Credit:
Eco Bricks
Social Transparency With Education
Education can inspire positive change and increase awareness. V Cycle conducts waste management and recycling programs in offices, schools and other organizations can raise awareness of plastic pollution and foster a responsible behaviour of recycling and waste reduction.
V Cycle partners with Young Living Hong Kong in the long term to provide recycling solutions and transform collected recycled items into sustainable products, and also conducting educational workshops where parents and children can learn and work together on handling recyclables. Photo Credit: Young Living Facebook
V Cycle co-creates the recycling programs with multiple brands and businesses, such as Kiehl's, LUSH, Young Living, L'Oreal, Watsons. Photo Credit:V Cycle Facebook, V Cycle Official Website


V Cycle provides recycling solutions to brands, such as Watsons Water and Kiehl's, collects plastic bottles through their vending machines and collection points at the retail shops. Photo Credit: V Cycle
ReMade In Hong Kong & Continue The Impact
Hong Kong used to be a manufacturing hub in the 1950s and 60s and it shifted to China massively in the 1990s to reduce costs. V Cycle aims to bring manufacturing back to Hong Kong by rebuilding "ReMade In Hong Kong". The goal is to scale up the production so this business model can be duplicated in the other 5 districts, continuing the positive impact on empowering the elders in Hong Kong.
Eric Swinton shares his vision and goals of V Cycle, aims to create a transparent circular economy which benefits both the environment and social, continues the impact in the next coming years.
Hong Kong used to be the export center of manufactured products in Asia. The workers were sewing inside the factory. Photo Credit: Hong Kong Memory
Addressing the pressing environmental issue is one hand, but empowering elders also has value. V Cycle is showing us it is possible to run a social enterprise with a strong sense of purpose, unlocking the elder's wisdom and experience vast capabilities, and playing an important role in building a more circular economy. And we can all be the changemakers, if you also believe in the goal of V Cycle, you can support their co-creates recycling projects and also volunteer to fulfill their programs on their website. Let's be part of the change, together we empower our communities!