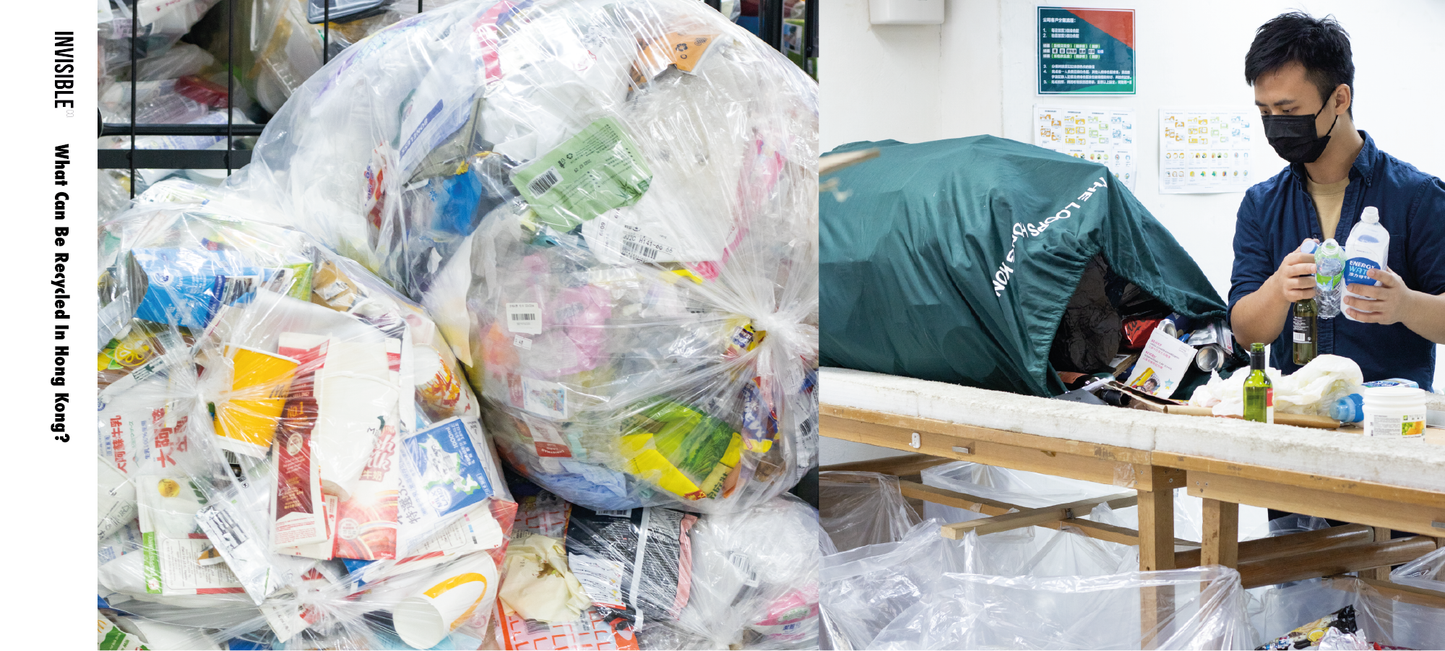 M ost of us might already know what can be recycled: Plastic bottles, Paper / Cardboard, Glass, Metals, but do you know it can be more? Everyday, we come across with multiple packaging and waste from households, industry and commerce, some materials are recyclable as well, but you would not think of it. Hence, we are here to meet a recycling expert in Hong Kong, Jorch Wong, the founder of The Loops Hong Kong, who is providing door to door recycling services to tell us the recycling guide and what can be recycled here.
Over 40 different recyclables can be recycled?
What can we recycle? Indeed over 40 different recyclables can be collected, all in one basket, covering more than 90% waste created in our daily life. The Loops Hong Kong will collect, sort and send to different recycling centers in Hong Kong :
Plastics:
Plastic bottles, Plastic containers, Plastic bags, Plastic film, Snack packaging, Chip bag, Instant noodle packaging, Dispenser pump, Paper mask packaging.
PVC:
Files, Badge, Credit Card
Polyfoam:
EPE, EPP, EPS
EVA:
Kickboard, Yoga mat
Unwashed cosmetics containers

X-ray film

Tetra Pak:
Beverage cartons, Milk cartons, Paper cup, Paper lunch boxes
Paper / Cardboard:
White paper, Coated paper, tissue box, snack box, empty toilet paper roll
Metal:
Aluminium, Iron can, cooking pan
Glass
Wooden toys
Wooden chopsticks (unused)
Ceramics
Ice pack
Isothermal bag
Wine cork
Fluorescent lamp
Rechargeable Battery
Used clothing
Tennis balls
Gas
Small household and home appliances
How to rinse the cosmetic containers?
Use tissue paper to wipe
For sunscreen and and handcream, do not use water to rinse it. Instead, should use scissors to cut off the bottle first, and then use tissue paper to wipe it.Antibacterial ingredients are commonly found in sunscreens, if rinsing it with water and the wastewater ends up in the sewage plant, by using the alum to coagulate impurities in the water treatment, but might not be able to filter these ingredients.
Can we create a second life for these recyclables?
Every material has their long story and theory, especially plastic as they have many different types. And yes, we can turn recyclables into another raw materials, reproduced into a new product or reused again.
Ice packs for food
There are three common gel cold packs available in the market, after being collected, we will rinse with water, sanitize them and available for restaurants, frozen food shops and groceries to order for reusing.
Wood pellets
We recycle the waste wood products, afterwards the wood collect and recycle company can process and convert them into wood pellets.
Want to know more about The Loops?
Read this article:#EcoWithAttitude: ISSUE 12. Interview with Jorch Wong From The Loops Hong Kong
...
Find more articles from keywords:
bottle recycling,
recycling in hong kong,
disposal of electrical appliances,

recycle bin near me,
slow fashion