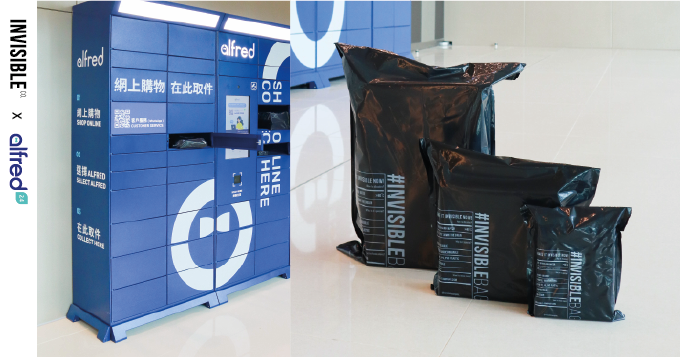 Smart Locker Networks. Deliveries made green!
Many businesses have suffered over the last two years with the rise of the pandemic, but eCommerce has undeniably boomed and that has ultimately led to a significant increase in the global consumption of packaging waste. 
This is especially the case in Southeast Asia, which has been pinpointed as a region with tremendous potential for growth in the eCommerce industry. A recent research article by ERIA indicates that out of the regions 350 million internet users, 120 million spent US $23 billion on eCommerce alone in 2018, double the amount from the previous year and this trend is only looking to continue to move in the same direction. 
We initially created our #INVISIBLEBAG water soluble mailers to fight conventional plastic mailers but we were looking to go one step further.
The last part of a products journey within logistics is known as the Last Mile and it is here that delivery companies play a significant role. We are eager to partner with logistic companies who share the same values as us and who are working towards the same solution. That is how we came across alfred24.
Formerly alfred delivery (by Pakpobox), recently rebranded alfred24 is a Hong Kong based logistics company that aims to reduce and ultimately eliminate carbon emissions that arise across the logistics chain. 
alfred24 x Invisible, Teamed Up!
alfred24 was previously using other biodegradable packaging but now, merchants have the option to use #INVISIBLEBAG meaning that consumers can instantly dissolve their product packaging in hot water, or dispose of it knowing that it will truly biodegrade in landfill conditions. 
#INVISIBLEBAG Mailer x alfred24's Smart Delivery Network
Furthermore, in hopes of inspiring other companies and individuals to learn about eco-friendly packaging, alfred24 is offering incentives for its merchants whereby they will subsidise some of the costs to support more businesses looking to go green. 
#INVISIBLEBAG Mailer options on the alfred24 Website
alfred24 clients can now buy 100pcs of #INVISIBLEBAG large size mailer bag for HKD $200, which would typically retail at $3.7 per bag.
Surging Demands and Resulting Carbon Footprint
In 2019 alone, EcoBahn reported that more than 35 billion eCommerce orders were placed with online retailers around the world. These orders then require deliveries which typically use carbon dioxide emitting cars, vans and trucks. Imagine the difference that could be made to our air quality if all logistics companies on a global scale switched to electric vehicles.
Taking this into account on top of their own 1.5 million packages delivered last year, alfred24 calculated their carbon footprint and how much plastic packaging they were consuming, and knew that changes were necessary to make their delivery business more environmentally friendly and encourage other businesses to follow suit.
Last Mile Go Green with us! 
Within logistics, there are many elements of the whole chain to be considered and it's not always possible for a logistics company to have full control. In light of this, alfred24 has focussed on the part of the chain that they can control otherwise known as the Last Mile, and created one of their sustainability initiatives; 'last mile go green'. 
For example, alfred24 offers merchants plastic-free packaging, delivery via electric vehicles and a sophisticated network of automated parcel lockers, enabling businesses and brands to play their part in reducing local emissions by over 35%. Furthermore, by making purchases with alfred24, merchants and customers are helping the company reach their goal of planting over 3 million trees in the Philippines and are growing the 'Alfred Forest', ultimately helping to offset carbon emissions.
alfred24's Forest in Philippines to offset carbon emissions
Why are Lockers a Greener Option? 
It's not common for delivery companies to go above and beyond to reduce their environmental impact. So alfred24 has quite an unique positioning in the market but it is their locker network that is really helping them to stand out from the crowd. 
Why is a locker network a more eco friendly option compared to door to door delivery? alfred24's General Manger, Alvin broke it down for us:
"Let's say the daily package volume is 1,000. To distribute them within the locker network takes 4 vans whereas door to door delivery would require more than 13 vans, meaning that the locker network saves the carbon footprint of around 9 vans in total."
Parcel Locker's Benefit from McKinsey Report Sep 2017
Furthermore, a McKinsey report on future urban delivery in dense cities also suggested that the benefits of parcel lockers includes;  reduced vehicle emissions by up to 70% and decreased labor time per parcel by 60%. 
Where to find alfred24 Lockers?
alfred24's Locker Collection Point at Nina Mall
By partnering with numerous couriers and convenience stores, such as 7-11, and by expanding their locker network, efficiency is improved for delivery but also for the environment.
alfred24's rebrand comes in light of advancing all their operating systems with AI technology and by gradually switching to electric delivery vans. The company has also pledged their sustainability goal that by 2025, they hope to expand their delivery network to 1,000 lockers and fully adopt electric vans for last-mile deliveries.
Easy, Smart Locker Parcel Collection in 3 Simple Steps
This hasn't been an easy process so far and challenges involving vehicle battery life, cargo capacity and operating costs have been faced but alfred24 believes that to be able to truly grow their company whilst minimising environmental impact, then extra costs and extra measures must be taken.  
Find out where your nearest alfred24 Locker is on their website and get involved for your next online delivery!
For more information about their rebranding, go check out their new alfred24 website. Don't forget to stay tuned to the latest news from Invisible Company by following @invisiblecompany_ on Instagram!
...
You may also like: GreenPrice: On a Mission to Eliminate Food Waste