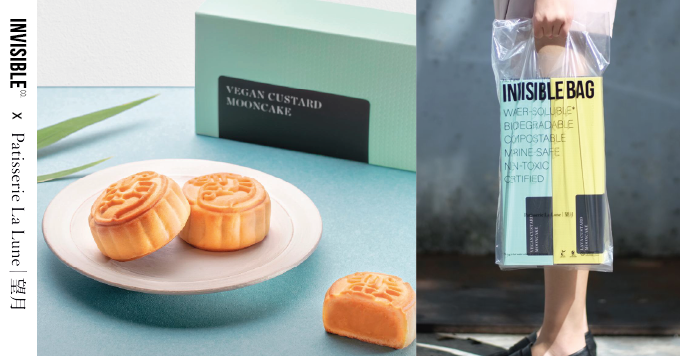 Pâtisserie La Lune began with foodies' back in 2011. The brand therefore naturally values their customers' needs. Be it the first vegan custard mooncake, or plastic-free #INVISIBlEBAG packages — 'customers first' is always the La Lune way.
A special appeal to eco-friendly consumers 
What makes an unforgettable mooncake? Mouth-watering recipes, instagramable presentation, limited editions, you name it. While being part of the eco-conscious community, sensing the eco-attitude in a brand surely counts! La Lune is not the only pâtisserie selling vegan mooncakes; but they are the first one to offer plastic-free #INVISIBLEBAG as alternative mooncake packaging.

Now let your customers decide
Dissolve or dispose, La Lune's customers are given a choice. Imagine standing at the cashier as a customer; they can choose to have #INVISIBLEBAG or paper bags carrying their mooncakes, even if they prefer conventional bags over water-soluble bags. At that point, a message has been made clear: this brand cares about the environment. They are invited to join the eco-conscious community, here's the chance to RSVP! 
Have a Distinctive Bite in 2021
Image courtesy of Patisserie La Lune
Apart from their famous custard lava mooncakes (yum!), this Mid Autumn Festival, they have joined hands with our
 local favourites 
HK Tramways plus #INVISIBLEBAG to offer a special gifting choice; reimagining the moon festival,
classic palmier, and
 the 107 years old HK tram identity — through an innovative packaging design.
Learn more about Pâtisserie La Lune
Mooncake image courtesy of Patisserie La Lune
Pâtisserie La Lune was founded in 2012 by a group of friends who enjoy eating. It started off as a cooking studio that gathered pastry masters to share and teach. Soon, one of the egg custard mooncakes went viral and as a result, they officially started the brand and made their mooncakes become part of the tradition with customers every Mid-Autumn Festival.
Until today, Pâtisserie La Lune is still looking for improvement in every single ingredient and packaging detail. They want the best product with simple and heartwarming tastes to offer to their friends and fellow foodies.
Follow their Instagram @lalune.hk or visit lalune.com for more mouthwatering Pâtisserie today!
...
You may also like: .3coffee - The planet friendly coffee with benefits!