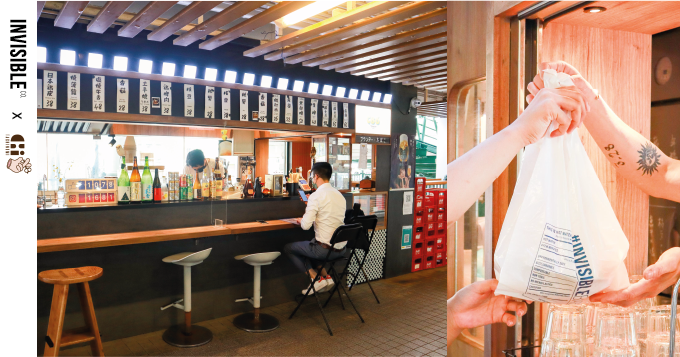 Traditionally, Tachinomi venues ("tachi" meaning stand, "nomi" meaning drink) were simple bars frequented by working class people coming to unwind after a long day at work. CHI Tachinomi's logo of crossed fingers tries to reflect this, where the fingers could be holding anything - chopsticks, a drink, yakitori or even a cigarette - just something to give yourself a half hour break.
Casual Japanese Cuisine with a View
CHI Tachinomi by the Central pier
Located at the Central Ferry Piers, CHI Tachinomi mostly offers takeaway food for their customers to enjoy their meal with a view of the Hong Kong skyline. Recognising that take-away food traditionally creates a lot of unnecessary packaging waste, the restaurant is determined to limit their wastage wherever they can.
Every Little Step Towards Sustainability Counts!  
Sustainability should be a necessary element of all Company's blueprints, regardless of the industry but for larger brands and corporates, making even small changes can be a difficult and lengthy process.
CHI Tachinomi strives towards sustainability with #INVISIBLEBAG
For small businesses such as Chi Tachinomi though, changes can be easier to implement and can still result in big results. Of course, initial costs for eco-friendly products are often more expensive than conventional plastics which can be hard for smaller businesses to shoulder but these costs will decrease with time, especially as more and more brands start working with them so it's very positive to see CHI Tachinomi helping to pave the road towards this trend. 
Adopting a Zero Waste Lifestyle for the Better
Here in Hong Kong, people are so used to the convenience of takeaway food that even if they are planning to bring their food back to their office or home, they will still expect to receive disposable cutlery (and will likely still use it, even if they have metal cutlery available). Furthermore, for cutlery to be considered hygienic, the expectation is for it to be wrapped in plastic, which just creates even more unnecessary waste.
CHI Tachinomi uses compostable containers for takeaway
CHI Tachinomi are trying to readjust people's mindsets and help them to see that take away cutlery is not necessary. Even better, they are going one step further by encouraging their customers to bring their own lunch box and cups too for a truly waste-free lunch experience! 
Invisible CHI, The Distinctive Actor!
Recognising that people may still need something to carry their takeaway in, CHI Tachinomi wanted to find an eco-friendly solution for this element of their business too so teamed up with #INVISIBLEBAG. Today, CHI customers now have the choice to reuse, dissolve or dispose of the water-soluble and biodegradable bag used to carry their food. 
Delicious Kawa Yakitori served in CHI Tachinomi
For a delicious eco-conscious Japanese meal, you can find CHI Takinomi on the Ground floor of Central Pier 7. Try to bring your own container and cutlery and feel good about your food. Go check out their instagram @chitachinomi before your visit!
...
You may also like: .3coffee - The planet friendly coffee with benefits!