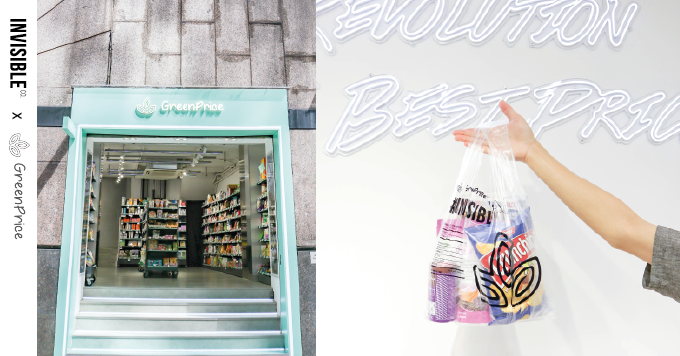 Unlike traditional retailers, GreenPrice has created a community store where people can discover a changeable selection of high quality products at low discounted prices. They don't do promotions, gimmicks or sales, but simply provide a convenient and affordable way for people to adopt a sustainable lifestyle.
The Green Vision
While at university, GreenPrice co-founder Terence Hon was aware that people often associate eco-friendly products as being too costly and that this was one of the main barriers stopping people from making sustainable lifestyle changes. Determined to make the eco-friendly world accessible for everyone, Terence entered a social innovation competition and what started as an idea grew into a store.
Today, there are eight bright and funky stores across Hong Kong, with a new store soon opening in Tsuen Wan.
GreenPrice's retail store in Central
Stop Waste. Best Price.
So how does it work? GreenPrice stocks a range of food, health, wellness, beauty and household products from over 800 vendors across Hong Kong. By specialising in surplus and short-dated stock, GreenPrice not only saves perfectly usable produce from being wasted (around one million products are typically saved from landfills per year), but is then able to offer huge discounts to their customers.
Chips, biscuits and other snack foods are probably the quickest selling items (who doesn't love chips?) and typically, stores can clear 96-97% of their stock within 3 months, with the remaining amount being donated to charities. So if you want something, grab it! GreenPrice stores don't have replenishments waiting in stock and staff don't always know what's coming in their next delivery - it's never a boring experience shopping there!
Innovative digital tags in GreenPrice store
Introducing Digital Price Tags and Water-soluble Bags
Out with old printable tags, in with new digital ones! GreenPrice prides itself on trying new things in the industry. Using an innovative digital system, data is regularly updated meaning that best before dates are displayed and price tags are changed accordingly to reflect this.
GreenPrice and #INVISIBLEBAG have now teamed up to create a transparent and sturdy shopping bag so customers can truly embrace their short dated products and experience a plastic free bag that not only fits many dry items (yes, heavy ones too!) but is also water-soluble and truly biodegradable. 
GreenPrice's customized #INVISIBLEBAG 
(Size: 31(W)*51(L) cm +16cm side gusset, 40 micron)
When it comes to carrying your discounted goodies home, GreenPrice firstly encourages customers to bring their own bags. If you've forgotten yours though, eco-friendly shopping bags are available at HKD $3 per bag. 
For more information on #INVISIBLEBAG customized order, find out more on our customization page.
Store locations and more information can be found on their website. Check out your nearest GreenPrice store today!
Central Store: 99 Wellington Street, Central
Wan Chai Store: 100 Queen's Road East, Wan Chai
Quarry Bay Store: 24 Hoi Kwong Street, Quarry Bay
Sha Tin Store: Shop A235A, 2/F, New Town Plaza III
Tseung Kwan O Store: Shop 77-78, 2/F, TKO Plaza

Tsuen Wan Store: Shop G28, G/F, OP Mall, 100 Tai Ho Road
Kwun Tong Store: Shop N, 5/F, Blk 3, Camel Paint Building, 60 Hoi Yuen Road, Kwun Tong
Kwai Fong Store: Shop C131B, 2/F, Kwai Chung Plaza, 7-11 Hing Fong Road, Kwai Fong
...
You may also like: .3coffee - The planet friendly coffee with benefits!