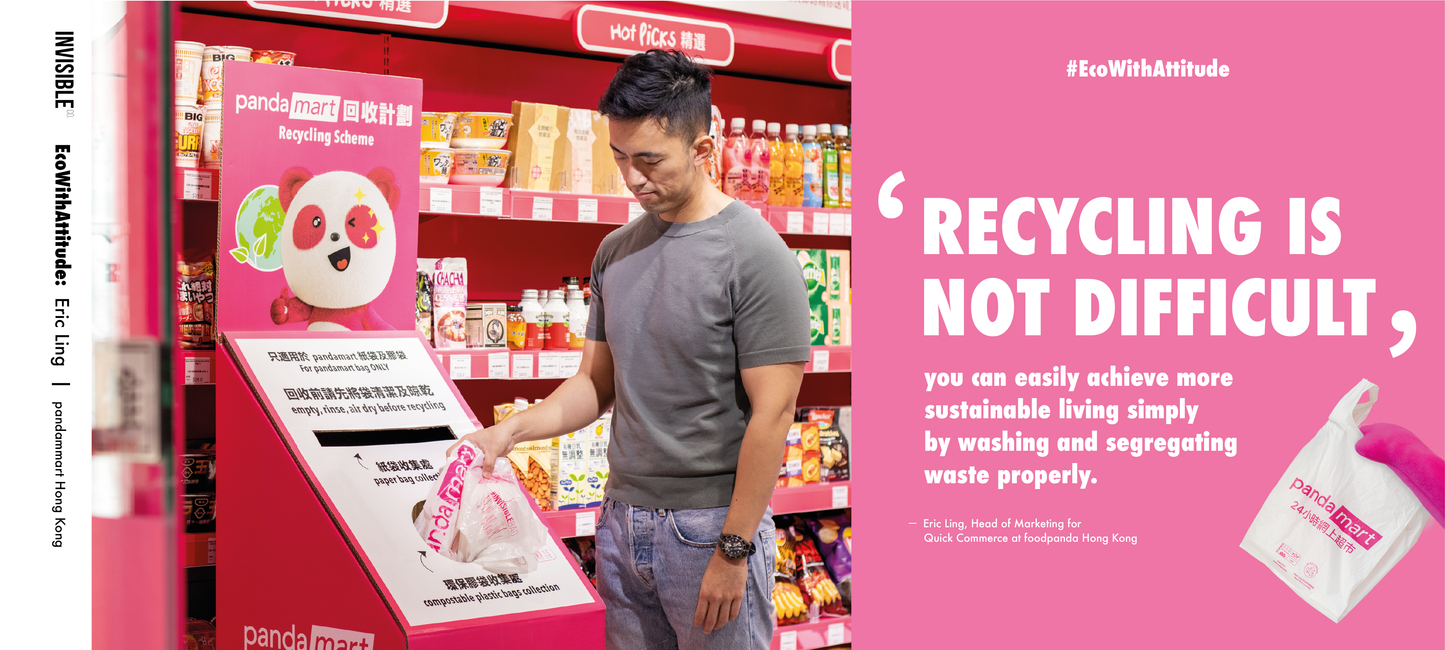 Promoting sustainability requires concrete actions from personal and brand levels. As a leading online food and grocery delivery platform in Hong Kong, foodpanda's 24/7 supermarket pandamart aims to provide a greener shopping experience beyond its instant online and delivery of nearly 10,000 products.
In addition to sourcing locally produced fresh foods and groceries, pandamart is undertaking further steps to promote sustainability. This includes creating an "Eco-life" category to highlight eco-friendly product options, adopting compostable shopping bags to replace conventional ones, and also enrolling in local in-store compostable bag collection programs.
Their sustainability efforts extend deeper than their visible initiatives, as this interview with Eric Ling, Head of Marketing for Quick Commerce at foodpanda Hong Kong, will reveal more and their ongoing campaigns. He also shares insight into their waste reduction approaches and promoting sustainable living and responsible consumption through their platforms.
Recycling is not difficult—you can easily achieve more sustainable living simply by washing and segregating waste properly.
#1 Can you introduce us this first pandamart concept store in Hong Kong?
Many of our past stores were somewhat remote and located away from residential areas. Sai Ying Pun pandamart is one of the highest sales locations in Hong Kong, we chose to locate here because not only could it bring existing customers and drive traffic, but also we wanted to get closer to customers through it. Sai Ying Pun was picked to be our first pandamart concept store in Hong Kong as this area and community are closer to where people live and work as end customers.
foodpanda prides itself on being a fun and vibrant brand. Compared to traditional supermarkets, you can see the differences in our interior design. We dressed the whole store in pink, and our brand mascot Pau-Pau is also prominently featured. The product shelves and fridges are set up to showcase what is available at pandamart. We have also incorporated green living concepts into our store, with recycling collection bin now available for customers to learn more about our sustainable actions and pandamart as a whole.
The first pandamart concept store in Hong Kong, located in Sai Ying Pun, Hong Kong.
Source From: foodpanda
The concept store sets up product shelves to showcase the available products at pandamart.
#2 What is the genesis of sourcing locally produced products?
As part of our ongoing mission of corporate responsibility and supporting local businesses, we prioritize sourcing locally and aim to provide more diverse and varied local product assortments. This differentiates us from traditional supermarkets. Compared to imported goods, supporting local brands by sourcing locally can help reduce carbon emissions from logistics by shortening transportation distances.
There are a few main types of local products, such as vegetables, locally farmed fish, sauces, and noodles. Most local vegetables are organic, as farmers avoid using chemical pesticides to lower environmental pollution. Going forward, we will continute searching for more local brands and partnerships.
Furthermore, vegetables and fruits are the most popular product categories across our assortments. Our target customers are office workers, as they usually do not have much time for grocery shopping. In addition to ordering takeout deliveries, they also pay attention to healthier options. pandamart serves as a convenient and quick platform for them to access a variety of fresh food options at different price points.
pandamart offers various local sauces to customers.
#3 What sustainability initiatives does pandmart have in place in the stores and operations?
As an online supermarket, short shelf life products are always a challenge we face. Therefore, we have partnered with local nonprofit organization Foodlink Foundation to donate near-expired food to those in need regularly. We also collaborate with brands that promote eco-friendly and sustainable missions. We are enlarging our recycling product categories in order to reduce food waste. During transportation and logistics, many imported goods are packed in cardboard boxes. Rather than throwing these away or recycling them ourselves, we donate the boxes to local cardboard pickers in the community. Every month, we also partner with ImpactHK to donate food and daily necessities to the homeless.
A 2018 interview by Hong Kong Free Press showed elders collecting cardboard on the streets with their full trolley before going to the recycling depot. Photo by Isaac Lawrence/AFP
foodpanda collaborates with local nonprofit organization ImpactHK to distribute food and supplies to the homeless in the community.
#4 Why choose #INVISIBLEBAG for pandamart?
Packaging is unavoidable for delivery businesses, as an online supermarket, packaging is also necessary for delivering groceries. Therefore, we aim to reduce waste at the source by choosing better materials like compostable shopping bags as an eco-friendly alternative. To facilitate this, we have recently launched a compostable bag collection program.
While paper bags are generally more welcomed due to their appearance, they are inconvenient for riders during humid and rainy weather as they are prone to breakage during transport. Hence, we considered how to safely deliver orders to customers and decided to use eco-friendly bioplastic shopping bags. This new material disrupts customers' inherent ideas as it is more durable than expected, with most reusing them as bin liners and giving them a second life.
Furthermore, we choose #INVISIBLEBAG as part of our eco–friendly shopping bags. We recognize it as a better alternative and the most sustainable plastic bag option since it can simply dissolve in hot water without forming microplastics. Moving forward, we will increase #INVISIBLEBAG usage to meet operational needs, such as for non-perishable, dry items delivered on non-rainy days.
Since 2022, all pandamart stores have switched to eco-friendly shopping bags, with a compostable bioplastic bag, water-soluble #INVISIBLEBAG, and recyclable paper bag.
#5 How does pandmart promote and educate consumers about this initiative and collecting different bags in use for your operations or products?
We hope to introduce and announce our upcoming compostable bag collection program and partnership with #INVISIBLEBAG through our platforms, such as the foodpanda apps, website, social media, and in-store TV. This will help educate consumers about how the collection program works.
Both of our eco-friendly, compostable shopping bag options include printed information. Even if not every customer pays close attention, thoroughly reading about these bags allows understanding of the differences between these eco-friendly materials and conventional plastic, as well as how to dissolve #INVISIBLEBAG with hot water or bring bags to stores for composting. Overall, we aim to better inform customers through available channels.
foodpanda introduces the eco-friendly shopping bags and how to dissolve #INVISIBLEBAG on their webpage.


pandamart sets up recycling collection bins in 3 different stores, collecting compostable bioplastic bag and water-soluble #INVISIBLEBAG to local composting facility.
#6 How important is it for businesses to take a proactive role in promoting sustainable practices and reducing waste?
It is very important for businesses to promote sustainability and reduce waste. Delivery services often leave impressions of being "not eco-friendly" or "unsustainable". Therefore, while providing convenience to customers, we hope to offer eco-friendly options to alleviate concerns over takeout negatively impacting the environment as part of the mission.
Furthermore, marketing activities and brand image are complementary. By choosing eco-friendly materials as an alternative to conventional plastic, customers can enjoy convenience while also supporting environmental protection. This shows that takeaway need not equate to being unfriendly to the environment if we reduce waste at the source.
Our business interacts with diverse customers daily. Our job as a marketer, impacts customers' perceptions on the brand and instills positive values through our brand communication. We aim to go beyond driving business but to consistently promote protecting the environment.
#7 What tips would you give customers to shop in a more eco-conscious way at pandamart?
When shopping at pandamart, customers can pay attention to brands that offer eco-friendly packaging alternatives. We created a category called "Eco-life" to feature local and eco-friendly products. With this, customers can prioritize supporting these sustainable brands as we work towards a more responsible and vibrant future together. Meanwhile, we have selected three stores closest to the residential areas in each of Hong Kong Island, Kowloon, and the New Territories as recycling collection points for composting. Customers can also reuse eco-friendly shopping bags, giving them a second life.
foodpanda and Invisible Company created a video with Pau Pau to demonstrate the recycling collection for composting program.
#8 Any upcoming plan for pandamart?
Apart from grocery delivery service, if customers find any favorable products at our store such as in Sai Ying Pun, they can directly place an order on the foodpanda APP using "Pick-up" service at store directly for experiencing the holistic convenience service of pandamart.
We will also introduce more fresh food assortments, such as vegetables, fruits, meat, fish, dairy, and eggs which are high frequency items, allowing customers to purchase ingredients with various options any time, anywhere. In addition, in recent months, we have gradually launched cross-district delivery service, to further extend the delivery coverage in Hong Kong, covering most of the districts, including remote areas and beaches.
Although we focus on selling food at this current stage, we have considered how to diversify the food options, such as partnering with local nonprofit organization which aims to do poverty alleviation through F&B services, to sell their locally and handmade bagels; import other keto-friendly or vegan-friendly products. Now, "Eco-life" is a new category at our pandamart platform where we select and highlight local food, ingredients and vegan products. And everyday our merchandising team will actively review the sales of each SKU and the portfolio , in order to adjust the forecast and reduce food waste.
pandamart partners with local nonprofit organization that aims to alleviate poverty through F&B services, to sell their locally handmade bagels.
pandamart also delivers to remote areas, such as Gold Coast, Silverstrand, Deep Water Bay, and Victoria Peak Garden. If customers go to beaches or have BBQs on the weekend, they can simply place an order on the APP and pandamart will deliver the groceries to those locations.
Source from:
quit gor
#9 What's your daily action to promote sustainability?
I have made recycling a habit for almost 5 years now. It's part of my daily routine to properly segregate, rinse, dry, and store every recyclable item before bringing them to the local community station weekly. Even for takeaway deliveries, I wash single-use containers as if they were reusable. Recycling is not difficult—you can easily achieve more sustainable living simply by washing and segregating waste properly.
Eric Ling, Head of Marketing for Quick Commerce at foodpanda Hong Kong
pandamart Sai Ying Pun Concept Store
Opening hours: 24 hours a day, all year round
Address: 582 Queen's Road West, Shek Tong Tsui
Find all pandamart locations here at their website. You can also learn more about their sustainability here.