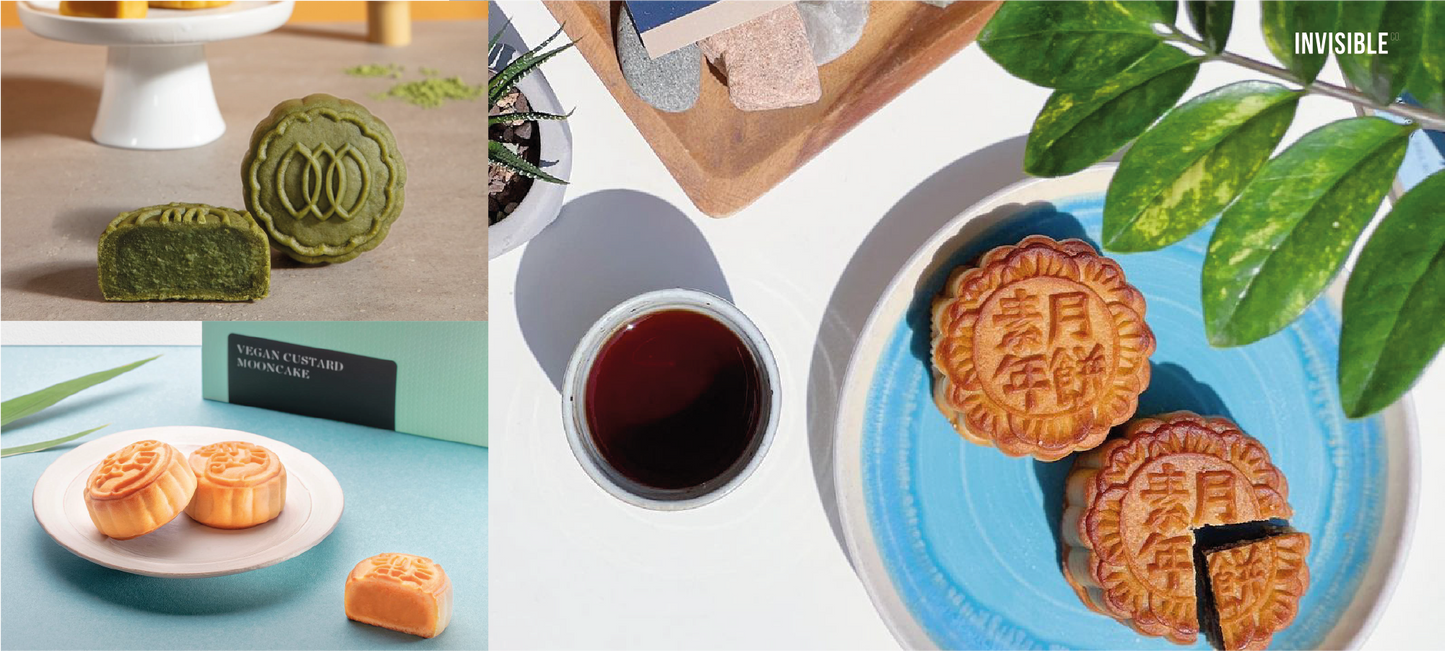 Mid-Autumn has always been one of the most important festivals in Hong Kong. Every September, you will experience a loop of give-and-take for exchanging mooncakes.
Instead of getting over-packaged traditional mooncakes from the chain stores in routine, why not try vegan mooncakes recommended by INVISIBLE TEAM who are also vegan lovers? All these vegan mooncakes are beautifully designed, dairy-free, and with their own unique flavours produced by local brands. In addition, many of these brands are concerned about the environment and carefully using green packaging options without compromising on the level of aesthetics. Start with the mooncakes and make a greener move this year!
Koke Lab Cookie-crusted Mooncake
Founded in 2018, Koke Lab is a vegan pastry online shop that aspires to create cakes as diminutive and enticing as lichen in the forests. From their art-piece-like desserts, it tells stories, to please your appetite in ways that would affect the environment to the least extent. This year, Koke has launched their very first cookie-crusted mooncake which include two flavours: Yuzu koshō Kumbu Mochi (Salt Version) and Da Hong Pao Oolong Osmanthus Pear (Sweet Version). Besides, every mooncake is packed individually and eco-friendly with a sugarcane baggase tray and compostable plastic bags. Pre-order at their website now and your mooncakes will be freshly baked on the selected pick-up date. 
Price: HK$298 (4pcs per box)
Patisserie La Lune Vegan Custard Mooncake
One of our distinctive actors, Patisserie La Lune provides a variety of mooncake options, in which, Vegan Custard Mooncake is specially designed for vegans and people who have egg milk allergies. The mooncake is made of vegan butter and egg dairy free. If you are a big fan of custard mooncakes, aren't you curious to get one and check it out? 
Price: HK$228 (4pcs per box)
Green Common Low Sugar Green Tea Mooncake
One-stop plant-based eatery local chainstore, Green Common, is also offering low sugar vegan mooncakes this year. Apart from popular vegan custard mooncakes, we would like to recommend the green tea mooncake which is locally produced with organic Miyoko's vegan butter and no added preservatives. Each mooncake contains only 2.4g sugar, which is less than 5% of all ingredients. Moreover, the gift set packaging is in a simplistic and elegant design in which the boxes are made of FSC™ Certified Paper and printed with soy ink. Each paper mooncake trays are plastic-free, the box, sleeve and trays are all completely compostable, alleviating the environmental damage. Click here, for more ingredients and packaging details now.  
Price: HK$248 (4pcs per box)
The Cakery Vegan Mooncake
Vegan mooncakes in four colours and flavours from The Cakery, including Yuzu Blueberry, Yame Hojicha Chocolate, Black Sesame Lava, and Mango Lava, which allows you to indulge in the quintessential mooncakes tradition without the guilt. Not only gluten-free, vegan-made, and free of preservatives, it contains much lower sugar when compared to traditional mooncakes. You can order this exquisite mooncake set from The Cakery official website now! Always, we recommend you to go pick up yourself if possible in order to save the environmental cost brought from delivery. 
Price: HK$568 (4pcs per box)
Years Vegan Mooncake
In 2022, the plant based eatery brand, Years, has launched two flavours of vegan mooncake:  Yuzu Almond White Lotus Seed and Red Bean Paste with Dried Citrus Peel. Every single mooncake contains no dairy products or preservatives. For foodies, we strongly recommend the new flavour Yuzu and it might be a limited version for this year only. Go and get Years mooncake from their website before it sold out!  
Price: HK$320 (4pcs per box)
For more ideas on how to live sustainably with an eco attitude, follow our Instagram and stay tuned!
...
You may also like: RETHINK MID-AUTUMN FESTIVAL IN 2022