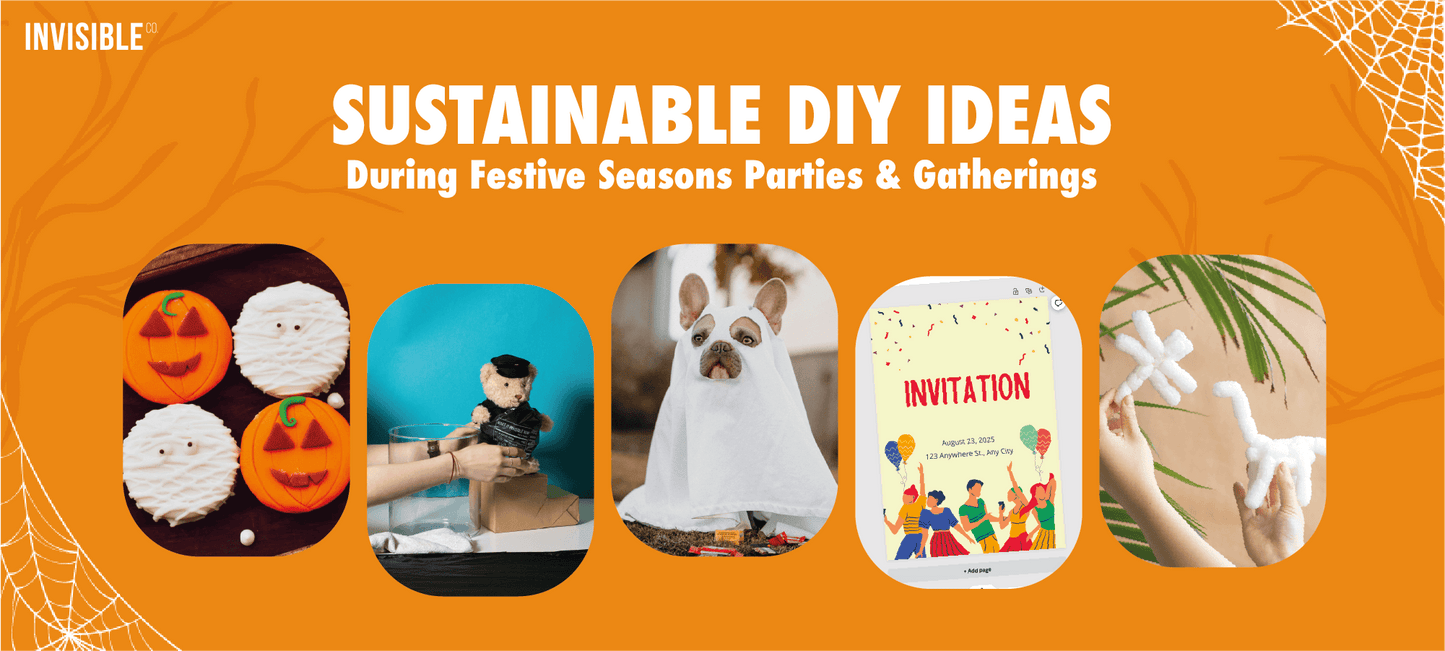 T he festive season is approaching Halloween, Thanksgiving, and Christmas, Year-end gatherings and celebration parties, and we all love to share quality time with family and friends. However, it is often occasions for which a lot of disposable items, products, and packaging would be consumed which are negatively impacting the carbon footprint. How about trying to turn these happy times into Eco-conscious actions and memories? Here are a few tips to have fun with Eco-Attitude.
Party Food and Refreshments 
(Source: Unsplash)
Designing the menu is very interesting but could be brain-burning when you host a party. Sometimes, confusion might appear that making it eco or greener will make things even more complicated, and therefore it is simply ignored.
But in fact, it could be fun and different from what people are used to or expected to see at parties.
How about turning simple catering dishes Vegan and surprising your guest with how good it is?
1/ Reduces Greenhouse Gas Emissions
According to Good Food Institute, producing plant-based meat emits up to 90% fewer greenhouse gases than producing conventional meat. Without changing your eating habit, you can still make a change to help the earth.
2/ Discovery of New Flavours
It would be fun to prepare vegan recipes and new cooking spaces with a large variety of spices. This will turn your guest into a discovery of new flavors.
3/ Healthier Option
It is healthier, don't everyone go on a detox by eating veggie and soup after every long and heavy dinner! Well, you won't have to do it this time as you will feel good eating a nicely prepared vegan dish.
Now that you are considering a Vegan diet, you need to have the matching eco-lifestyle decoration and cutlery, as you don't want to get trapped with all these disposable cups, fork knives, or containers. Ok we know disposable is so convenient but nothing better for the environment than using your own cutlery, table cloth, and table napkin. They are washable and reusable as many times as you need and won't pollute the trash bin! If you don't want to clean, well there will always be some kind-hearted guest to come and ask if you need help! Sustainability is teamwork, isn't it!!!
(Source: Unsplash)
One other amusing way to workaround this is to ask your guest to come with their own utensils, and food box, they will get a free dish wash by the host, many complementary drinks and if there is food leftover they would do a doggy bag of the next day :)
And last but not least, please remember to recycle all the bottles or consumables you and your guest enjoyed.
Dress Code and Costumes
Have you ever bought new clothes or costumes for a single event? When a party has a specific dress code, there will be a high chance for you to buy cloth for one-time usage only, especially on Halloween, and you are seldomly wearing the same costume every year. What you can do is to upcycle old clothes and add some festive elements to them. It is also fun for parents and kids to work together as a game and educate eco and green concepts to your next generation. Moreover, another way is to support upcycling fashion brands like 2ndclosetdesign or try to find them from second-hand platforms such as JupYeah if you run out of time for the festivals.   
On the other hand, we all know someone having a unique outfit to share or a garage full of treasure where you can find costumes to borrow for one day. It is time to ask around and dig up to impress your friends.
Upcycling Nike T-shirt Design
Mobile Wardrobe Event
(Source: Instagram
@JupYeah
)
Backdrops and Decorations
Thematic backdrops and lovely decorations are other highlights for gatherings and parties. In order to be eco-responsible and avoid waste, a lot can be DIY! For example for video and marketing asset creation, our INVISIBLE team strives to find a way to always recycle, upcycle, or use easy recyclable material. We push our best to avoid waste and be green in all aspects, we found it very entertaining to handcraft and create beautiful props, and backdrops. Here is a quick glance at how our team worked on the production of a stop motion animation video for Cathay Pacific collaboration.


Invitations Cards
RSVP, Invitation, and festive greeting cards have been too way to go we all know about, but unfortunately create a lot of paper, or other material to be used only for the occasion and would mostly end up in the trash bin.
What if you arrange all of these to be INVISIBLE and Digital? 
Such as, sending RSVP invitations by email, creating Instagram Hashtags for specific events, and emoji stickers for Christmas blessings.
In such a way, you can use multi-stream of creation and communication with your guest, and you can even automate actions to be sure everyone knows about your party and event.
Games and Activities
You can also have fantastic friends and family time with kids through DIY games and handcrafts. Simple but fun game ideas could be discovered from our partner, Magic Beans, a company that provides themed craft boxes for children. Activities like dissolving #INVISIBLEBAG with children or creating PopUp Art with #INVISIBLEPUFF is really interacting with kids and make the adults jump back to art class.
Magic Beans x #INVISIBLEBAG Collaboration
Renting games instead of buying become more and more popular. It is very easy and convenient to rent board games before your party and you can try different games rather than sticking to one.
...
You may also like: INVISIBLE TEAM'S Pick : 2022 Vegan Mooncakes In Hong Kong , Rethink Mid-Autumn Festival in 2022
...
Find more articles from keywords: Eco-friendly Clothing, Biodegradable Packaging